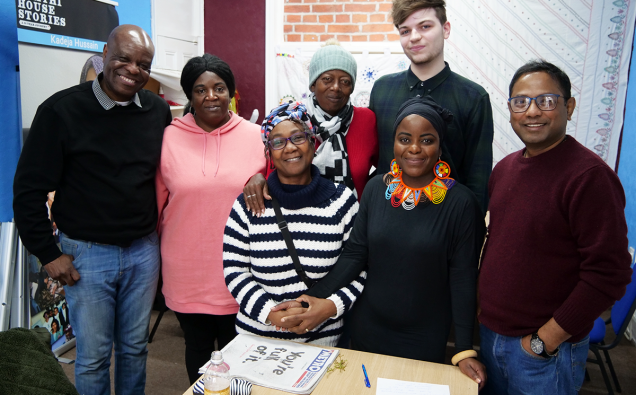 A team of budding citizen journalists from migrant communities across the West Midlands have launched an online magazine for Black History Month.
The group of mature students from Wolverhampton, Birmingham, Coventry and Walsall have made the leap from learning basic media skills only a year ago to producing their first fully-fledged professional magazine this month.
Honing their skills in writing, photography and filmmaking, the news team trainees have spent the last 12 months developing their journalism skills to amplify voices in migrant communities; often overlooked in mainstream reporting of the migrant experience.
Hailing from countries as diverse as Zimbabwe, Bangladesh, West Indies and Jamaica, the participants have produced a 112-page publication highlighting the perspectives, achievements and struggles of migrants and members of the region's Black community.
Alongside news articles, spotlight features, traditional stories, art and poems, the editorial team have conducted interviews with public figures including Birmingham Cllr Sharon Thompson, social justice activist Joshua Williams, author Abena Eyeson, poet Tarik Ross-Cameron and entrepreneur Beverly Johnson.
The magazine's cover story is an in-depth feature exploring Black female photographers creating their own platforms as a means of self-empowerment. Artists featured in this segment include Denise Maxwell, Sam Jordanne, Jemella Binns and Tobi Sobowale.
Penning the opening message in the e-magazine, titled 'Beyond', co-editor Althia Barnett writes: "Some of us, like myself, had no previous media experience and struggled with even the most basic technology, yet here I am writing a welcome message in an online magazine!
"Having attended Media Labs and newsroom sessions, made new friends and had the opportunity to learn about photography, filmmaking, copywriting, social media, and journalism skills over the last year and a half, together we now bring you our first magazine, and one which celebrates Black voices, Black talent and Black experiences."
Media training workshops for the team were provided by charity Migrant Voice as part of the MiFriendly Cities project, an initiative developing innovative approaches to enhancing the contribution of refugees and migrants in the West Midlands.
Farizai Dzemwa, originally from Zimbabwe, was a sub editor for the magazine.
"Watching and being part of a team that made the magazine dream come true was exhilarating," she said. "Balancing home, work and the production of the magazine is something that I had doubted initially. But I can safely say that with passion, drive and the right kind of direction, possibilities are unlimited."