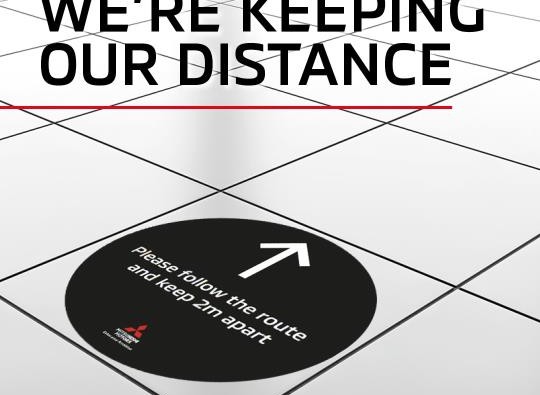 Sales showrooms across the Mitsubishi Motors dealer network in England are reopening from June 1 following the government's easing of restrictions implemented in response to the Coronavirus crisis.
While the reintroduction of the sales network in England is a welcome development for the thousands of people in the Mitsubishi family – staff and customers – impacted by the lockdown, there will be no easing in the levels of vigilance and protection put in place by Mitsubishi Motors dealers in England. A special programme of safety measures has been introduced to help dealers do everything possible to protect their customers and staff from infection, such as:
Social distancing measures such as staggered showroom admittance; specific visitor appointments; designated floor markings; extensive two-metre reminder signage; reconfigured customer waiting areas and specifically allocated car parking
Reconfigured dealership spaces with sufficient social distancing space around cars inside and outside of the showroom; defined routes through the premises; clear signage and one way systems for both staff and customers
Safe working zones with screens and the means to sanitise regularly, with PPE available for use, and the removal of communal items such as leaflets, brochures, newspapers and magazines from all areas, as well as the closing off of customer refreshment and child play areas
An enhanced cleaning schedule with a focus on high-traffic, high-risk areas including the sanitisation of static and test drive vehicles touchpoints after each customer (e.g. steering wheel, door handles, gear knobs, dashboard etc.) as well as those of showroom touchpoints such as door handles, rest rooms, desks etc.
Unaccompanied test drives wherever possible, in line with DVLA regulations and individual dealers' insurance requirement
Specific care of customer cars including full sanitisation upon collection and return; ventilation system purge; disposable seat covers and steering wheel covers and specific "sanitised and sealed" door seals to reassure customers their car hasn't been tampered with after being cleaned
Collection and delivery service of customer vehicles for maintenance or repair, MOT inspection, collection of part exchanges and delivery of new vehicles, in line with best sanitisation and safety practice.
Customers are encouraged to contact their local dealers to find out more about the measures they have put in place or if they have any specific questions or requests.
Rob Lindley, Managing Director, Mitsubishi Motors in the UK said: "The safety and wellbeing of our customers, our dealer partners and our staff is of the utmost importance so while we're delighted that the wheels of our dealer network in England can start turning again we want this to happen in the safest and most responsible way possible.
To ensure we get off to a flying start next week, we've been preparing our operations, and those of our dealer network, to work successfully within the ongoing safety guidelines and we have an ample supply of new and used vehicles; parts and accessories to meet demand. We will also be introducing some great new offers for customers in addition to our Outlander PHEV OVO Energy 10,000 Free Green Miles offer and Free Home Delivery offer for our Buy Online customers."