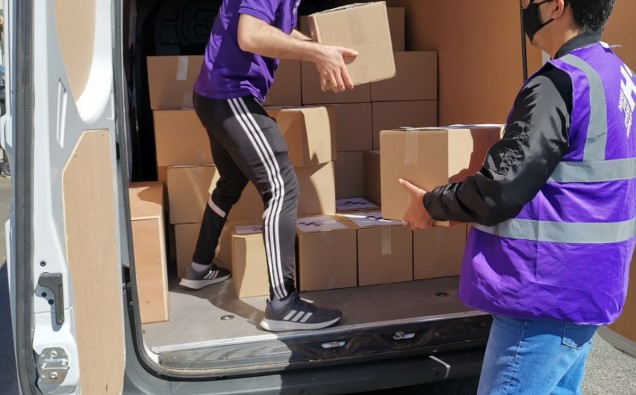 The Holy Month of Ramadan began last week on Tuesday, 13th April, and Manchester-based humanitarian charity Human Appeal has already distributed thousands of food parcels across the globe to some of the world's most vulnerable communities.
That includes communities here in the UK, where the Environment, Food and Rural Affairs Select Committee estimated nearly 6 million adults and 1.7 million children struggled to get the food they needed between September and February this year.
Last year, Human Appeal's COVID-19 emergency appeal throughout Ramadan saw them deliver over 4,500 food parcels to people in need across the UK, and the charity expects to hand out even more this year.
Starting last week in Birmingham, Human Appeal's team have delivered over 100 food parcels so far across the city to places such as housing organisation Select Homes, and Midland Living, who work with vulnerable people, including survivors of domestic violence.
The charity has also distributed a further 50 food parcels to Bolton housing association Adullam Homes, and will be delivering vital support to those in need in other parts of the country as Ramadan continues.
Each food parcel is designed to last someone as long as possible, and contains long-lasting items such as pasta, flour, baked beans, soup, tuna and UHT milk.
Abid Shah, Human Appeal's UK Programmes Manager said:
"We're into our second Ramadan during this pandemic now, and we know from our first one last year that the scale of need will be bigger than we've encountered before.
"Giving back to communities in the UK, communities that we're rooted in, is in our DNA at Human Appeal and I'm glad we've been able to help so many people already. Whether people are in food poverty, homeless, escaping domestic violence or vulnerable in any other way, we'll be there for them throughout Ramadan and beyond.
"We want people to know that they can be the change they want to see this Ramadan, by donating or getting involved."
To find out more about Human Appeal's work, visit www.humanappeal.org.uk