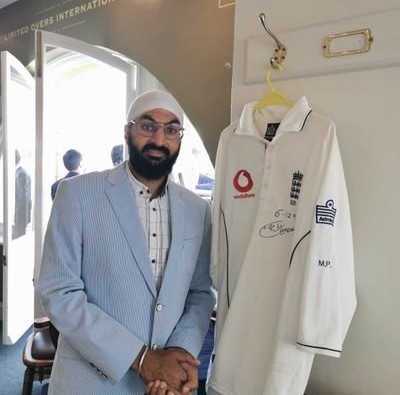 What was it like growing up in the town of Luton in Bedfordshire? Where your opportunities to get into cricket limited?

 
I was very lucky. I had a cricket club called Luton Town Indians, which was predominantly made up of people from the Gujarati community. My Dad's best friend taught me cricket and got me involved. Then I went for a trail for under 12s at a school and got in. My team never had a spinner, so I used to bowl there. I was very fortunate to have opportunities come my way. 
You're described as a spin-bowler, how does that differ from seam-bowling?

 
Spin bowling is a rotation of the ball, where you put revolutions on the ball by imparting spin from your fingers. Seam bowling is just using seam presentation, going down towards the batsman when you bowl. The seam is rotating behind, and it's also called fast-bowling as well. 
What was it like being recruited by Cricket Australia as a consultant during the tour of India?

 
It was a really enjoyable moment. I really liked coaching the players and especially the Tour of India. My mentees did well and really surprised me. 
What was the best part of playing for the England Cricket team?

 
The best part was my test matches. We won so many games, and it was really enjoyable. 
What has the toughest point of your career been so far?

 
The toughest point was when I had to keep my place in the team. I found it difficult because my batting and fielding wasn't great. So I went away and learned how to bowl slow and low on pitches. I had to adapt my game and become a better baller. 
What has the peak of your career been so far?

 
One of the highlights of my career was our Cardiff Test match against Australia. And also winning matches in India 2012 and Australia, they were all memorable moments so far. 
In an interview with the 

Daily Mirror

, you once said you were working on your own version of the '

Doosra

' (a ball which spins the other way). How successful have you been with the venture?

 
I haven't been very successful at nailing the Doosra, but I can get the ball to straighten. Because I've got an orthodox action, it isn't very easy for me to bowl the Doosra. To do it you need to be a chest-facing batsman and have your wrist facing the batsman as well. I'm a side-on bowler, so it's different. 
In August of this year, you revealed you were in discussions with the Indian domestic team 

Puducherry

, with a view to playing for the 

Ranji

 Trophy. How has that been progressing?

 
Unfortunately, I wasn't able to enter the competition because I'm not an Indian resident. I could have gotten an OCI but still wouldn't have been able to play. Maybe I need to arrange an interview with Narinder Modi and ask to change the rules! 
What have you been doing in 2019?

 
I've released my self-titled book called 'Monty-Panesar.' I'm a radio presenter on Punjab Radio and Live FM. I have a Twitter Channel and general election channel. I also have my own newspaper column; I basically want to become a media presenter when my cricketing days are finished. I do a lot of charity work and act as an Ambassador for Shelter UK as well, where I deliver food to the homeless across the community. 
What advice would you give to aspiring British Asian cricketers?

 
I would say just follow your passion. If you're really passionate about something like cricket, then follow it because it'll help you to get to where you need to be. 
What are your plans for 2020?

 
I want to get back into playing professionally. I'm going to be training and continuing to get into media presenting and broadcasting on TV as well.