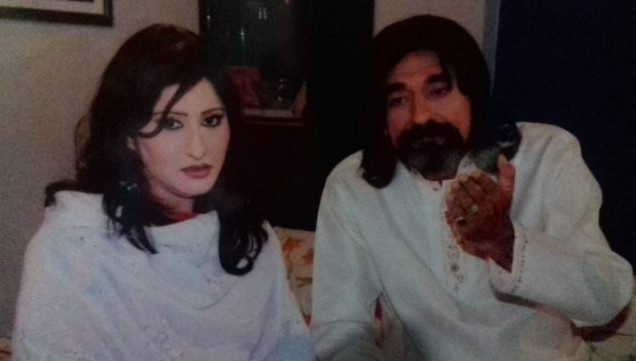 Fauzia, an actress and make-up artist from Peshawar, said this in an interview with AWN. She said her ex-husband used to consider her income as his own, and he made it an issue of his ego when one day she questioned him about the expenditure of her money and started mentally torturing her.
Fauzia has now taken divorce from her ex-husband and looking after her two children. She said she started her career from the state-run TV in 2002 as a drama artist and now she is serving as a make-up artist. She said she was extremely happy after getting the job in the state-run TV, but her husband started teasing her and imposing undue restrictions due to which she felt extreme mental pressure which also impacted her children. She said she then decided to part ways with her husband.
Fauzia said she had a passion for acting from her childhood, but her family did not allow her. She said her husband encouraged her in joining showbiz as he was unable to support the family due to financial constraints. However, she said, her husband used her profession for his own personal interest. She said after getting fame and earning money, she decided to step aside from showbiz, but her husband was not allowing her to quit the job, because he was interested in her money.
Fauzia said every main female character in any drama serial was her ideal and she wanted to follow their footsteps. Fauzia, who hails from Nowshera, started her showbiz career from Pashto dramas from PTV. Her famous dramas include Yao Jehan, Parhar, Khandan, Da Har Cha Khpela Dunya, Mong Da Cha Na Kam Na Yu. She also worked as an artist with a private TV channel. She also won an award for her dramas Shor and Parao. She said she has won several awards in recognition of her services, and she was the happiest to receive an award from Prime Minister Imran Khan.
Fauzia said like other women, she also faced criticism even from the family women while initiating her showbiz career. However, she said, after gaining success, now the same women meet her with respect.
After seven years of an acting career, Fauzia started gaining attention due to her exceptional skills of a make-up artist. She also used to do the make-up of brides in wedding and got a job as a make-up artist in PTV in 2012. She said TV make-up is different from wedding make-up as it is according to the role of the character. She said her successful career, her more education and her courage to raise voice for her rights were few things which were not acceptable to her husband. She said her husband also used to spy on her at her office and wanted to coerce her into subjugation. She said she is far happier now after separation from her husband and living a peaceful life with her children.