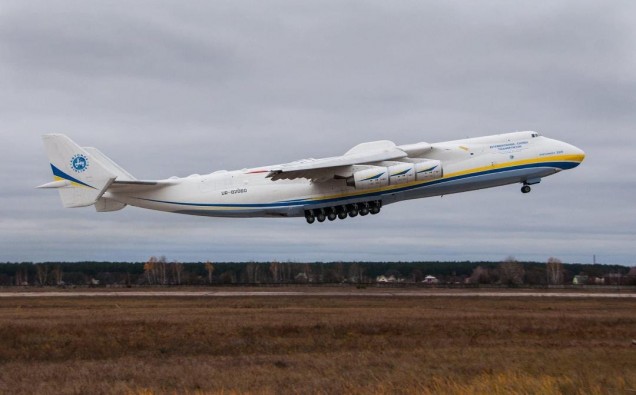 Due to the Russian attack on Ukraine, the largest aircraft on earth Antonov   AN-225 Mriya was destroyed. It was unbelievable and quite shocking news for the whole aviation community but on 27th February Maxar technologies released the satellite images which showed the heavy damage and destruction of aircraft on the airport made people believed. Antonov AN-225 was parked in a hangar undergoing repairs at Hostomel airport located northwest of Kyiv. The video was released on social media showing the damaged aircraft which was barely recognizable.
According to the director of Antonov Airlines one of the engines was dismantled for repairs and the plane wasn't able to take off that day, although the appropriate commands were given, a statement from Ukroboronprom, Ukraine's defense industry conglomerate said on Feb 27th. 
On 27th Feb Ukroboronprom confirmed the news of Antonov AN-225 in a press release and added, "That they planned to rebuild the plane at the Russian's expense. The restoration is estimated to take over 3 billion USD and over five years. Our task is to ensure that these costs are covered by the Russian Federation which has caused intentional damage to Ukraine's aviation and the air cargo sector.
 Dmytro Kuleba, Minister of Foreign Affairs of Ukraine stated on Twitter, "This was the world's largest aircraft, AN-225 'Mriya' ('Dream' in Ukrainian). Russia may have destroyed our 'Mriya'. But they will never be able to destroy our dream of a strong, free and democratic European state. We shall prevail!"
Antonov AN-225 was built in 1980 by the Antonov Design Bureau in Soviet Ukraine nicknamed Mriya (Meaning "The Dream"). After successfully fulfilling its military missions, the aircraft was then reintroduced into commercial operations with Antonov Airlines. According to Space.com       AN-225 was designed to carry energia rocket's boosters and the Buran space shuttle from its service area to the launch site as part of the Buran space shuttle program. AN-225 always attracted the attention of the people due to its size and uniqueness with the maximum take-off weight of 640 tonnes, it held several records including heaviest aircraft ever built and largest wingspan of any aircraft. In 2020 when covid-19 pandemic impacted the world, AN-225 participated in the relief effort by conducting flights to deliver medical supplies from China to other parts of the world.
The six engine heaviest aircraft Ukraine's Antonov AN-225 will always be remembered till it is not rebuilt. The country Ukraine declared that, "it will rebuild the aircraft as it looks to a brighter future. With skin as thick as Mriya, the plane will undoubtedly find its way back in the air."
By: Rida Khan (Aviation Author)
Instagram A/c: aviationauthor.ridakhan