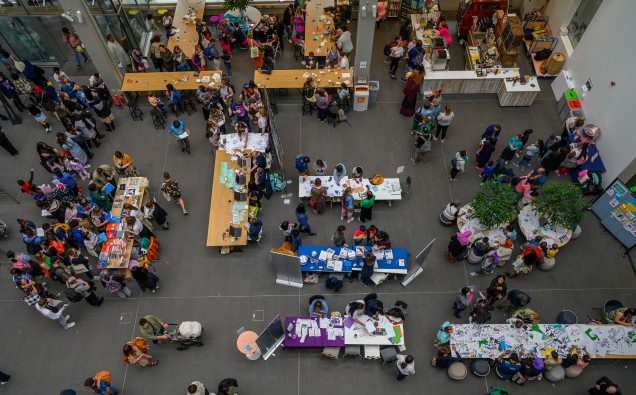 Thousands of young curious minds flocked to Birmingham City University to take part in its Inspired Family Day providing a plethora of fun and creative activities including a book reading and signing by its Chancellor Sir Lenny Henry.
The event, at the University's Parkside and Curzon buildings, took place on Saturday (11 June) and marked the launch of Inspired Festival – a two-week programme of events that showcase the work of art and design graduates.
Inspired Family Day saw youngsters and their families get involved in a host of exciting workshops and demonstrations including percussion sessions with Royal Birmingham Conservatoire musicians, medal making with a School of Jewellery expert, family portraits in the biggest green screen studio outside London, and designing gaming characters with School of Games, Film and Animation specialists.
University chancellor Sir Lenny Henry signed copies of his children's book 'The Boy With Wings' whilst staff from the University's Faculty of Health Education and Life Sciences were also on hand to demonstrate medical equipment, including laparoscopy kits and electromyograms.
Exhibitions featuring work by final year art and design students – including exhibitions in photography, fashion, jewellery, product design, architecture, art, English and music – as part of the BCU Inspired Festival, officially went on show across Parkside.
Sara Harris, Interim Deputy Dean for the Faculty of Arts, Design and Media, said: "It's been wonderful to welcome so many families here on campus after a two-year Covid hiatus. Our Inspired Family Day is the perfect way to share incredible work by the next generation of home-grown talent in the West Midlands with the wider world."
The University's partner organisations, including Craftspace and HS2, were also on hand to offer sessions making gifts for athletes visiting the city later this year, and many visitors enjoyed trying out a construction simulator and designing high-speed rail routes.
The University's chosen charities, Acorns Children's Hospice and Birmingham and Solihull Women's Aid (BWSA), were also on site during Inspired Family Day, speaking with visitors about their work.
Anna Fawcett, Income Generation and Corporate Relationships Manager for BWSA, said: "This was our first large community event since before the pandemic. We chatted with families about inspiring women, encouraging children at our stall to make posters and friendship bracelets, and we talked about our work supporting women and children in our area.
"Hopefully our presence at the event helped to remind anyone in an abusive relationship, or people concerned about someone in their life that we are here for them, and they need not be alone – our helpline is open 7 days a week and there is support out there."
Inspired Family Day was also part of an extensive and exciting events programme running up until November this year which aims to celebrate the work of the University and its ambitions set out within its 2025 Strategy. To find out more about the BCU 2025 Strategy, please visit www.bcu.ac.uk/2025.
Inspired Family Day also coincided with Birmingham Design Festival, which included workshops and talks across the University's Parkside Building. Visitors were encouraged to make sustainable choices to travel to the city.