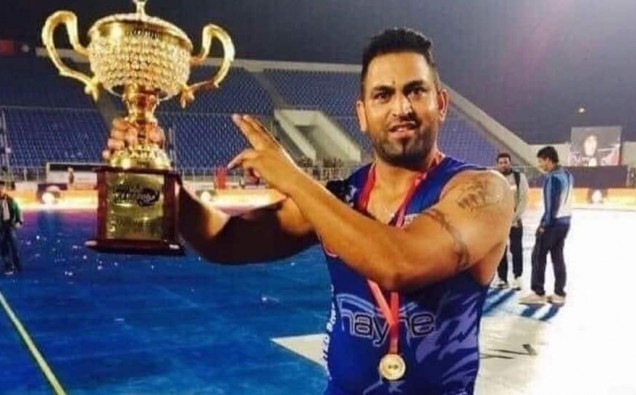 Sandeep Singh Sandhu was stabbed ten times while watching a sport in Mallian Khurd, Punjab, on 14th March 2022.
The audience at the kabaddi match were seen surging towards the area where Mr Sandhu sat, according to footage published on local Indian media.
Three guys stepped out of a car and aimed at Mr Sandhu from a small distance before fleeing the area, according to Ashok Das, president of the England Kabaddi Association
The 38-year-old father of three boys was a well-known figure in the South Asian sport, having captained the British national team and excelled as a goalkeeper in tournaments all over the country.
Kabaddi's basic principles are straightforward: two teams of seven players compete in a big square stadium for two 20-minute halves.
Each team's players alternate racing across the centre line to the opposing team's half of the court, marking members of the opposing team, and running back.
He was born in India but has spent most of his life in the United Kingdom, with his family owning and operating Crispy Cod, a fish and chip restaurant in Dudley.
He praised Mr Sandhu, characterizing him as a sports legend and a good guy."I think everyone is unhappy," he continued, "since he was the best player on the team."
"He'd play in any significant event or competition you could think of, including five world cups held by the Punjab government."
Mr Sandhu is a role model and advocate for the sport, according to Wolverhampton Wrestling Club head coach Ranjit Singh, who met him at various kabaddi and wrestling competitions.
"First and foremost, he was a wonderful sportsman who contributed greatly to kabaddi itself, engaging in the youth and taking the sport to new heights," he said.
"He was also a fantastic player and one of the finest in the world, and, akin to what we do at our club, he paid back to the community and served as a role model by inspiring young people to take up the sport and reach high levels."
"It's completely devastating to learn of his death since he'd gone to India as part of his normal routine and there was nothing to indicate that this would happen, so it's a great shock to the athletic world, and my sympathy goes out to his family."
"He dedicated his life to kabaddi and loved the sport for 23 years," said brother Angrez Singh. He was born into a farming family, but kabaddi has always been his love. We have faith in the police and are confident that justice will be served. "All we want is for the guilty to be brought to trial."
"He made an unequalled contribution to the sport," said Hakam Singh, chairman of the Major League Kabaddi Federation. He began compensating referees and support employees. He also campaigned for dope tests similar to those used by the World Anti-Doping Agency. He was on a mission to clean up the game.
"All we care about is justice." It must be investigated who might profit from his assassination."
Mohammed Aurangzeb, chairman of the Dudley Kabaddi Club and director of the Birmingham Kabaddi Club, said he had heard about the incident and was still trying to digest it.
"I'm incredibly disturbed about what's happened, and it shouldn't be happening to these types of players because they're stars," he added. "I hope the Indian government and authorities would take serious action to safeguard them."
"I can't begin to express how devastating this is because these types of athletes don't appear out of nowhere, and he was a tremendous hero to the people, so it's a huge loss to us in the sport and in life."
Image credit:  Sandeep Nangal/Instagram