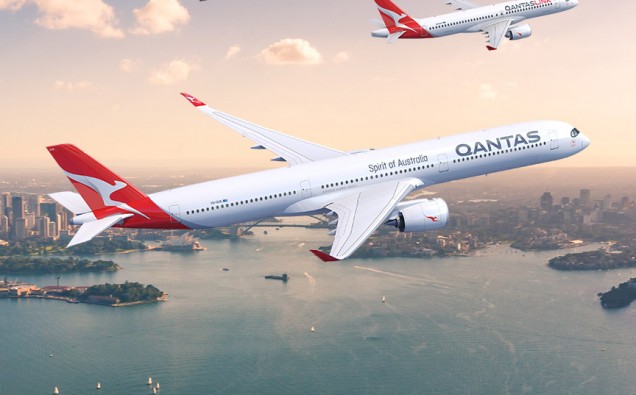 The wait is over now as the Qantas Group got the approval of "Project Sunrise". The plan was launched just before the pandemic but COVID-19 turned all the things upside down and the project was on hold. Qantas never gave up on the project and continued to struggle till they didn't get approved.
 Now the question is what is Project Sunrise and why is the Qantas group so eager to launch this project? Actually, Qantas wants to shape its future domestically and internationally. There will be non-stop flights operated from Australia to other cities including New York and London. Internationally there will be 12 Airbus A350-1000s ordered to operate the flights. These aircraft are scheduled to start by the end of 2025 from Sydney. This project will also help to create over 1000 jobs as well as many career progression opportunities at a national carrier. It will also improve the journeys of millions of people every year. 
 The main benefit for the passengers from this project is that they will get more direct routes and therefore less total travel time. Not only this the cabin is specially configured for the improved comfort on long flights and includes a Wellbeing Zone in the centre. Passengers onboard A350 will be treated to luxurious first-class suites with separate bed, recliner lounge chair, personal wardrobe, a next generation business suite, new premium economy seat pitched at 40 inches, a new economy seat pitched at 33 inches and dedicated Wellbeing Zone designed for movement, stretching and hydration. The cabin interior and service design influenced by medical and scientific research carried out on three project sunrise research flights from New York and London to Sydney in 2019. 
 According to the Qantas group CEO Alan Joyce, "New types of aircraft make new things possible. That's what makes the announcement so significant for the national carrier and for a country like Australia where air travel is crucial." 
 "Throughout our history aircraft we've flown have defined the era we're in. The 707 introduced the jet age, the 747 democratised travel and the A380 brought a completely new level of comfort. A350 and Project Sunrise will make any city just one flight away from Australia. It's the last frontier and the final fix for the tyranny of distance. As you'd expect the cabin is being specially designed for maximum comfort in all classes for long haul flying. A320s and A220s will become the backbone of our domestic fleet for the next 20 years helping to keep this country moving."
"These new aircraft and engines will help to reduce emissions by at least 15% if running on fossil fuels and significantly better run-on sustainable aviation fuels. This order brings us closer to the commitment of Qantas group to reach net zero emissions by 2050." 
"The Australian national carrier also announced the renewal of its narrow body jets as part of "Project Winton" with firm orders for 20 Airbus A321XLRs and 20 Airbus A220-300s as its Boeing 737s and 717s are retired. A220s will start to arrive in late 2023 and A321XLRs will arrive a year later in late 2024."
These major decisions taken by Qantas group for Project Sunrise will reshape their international and domestic networks over the next decade and beyond. But through this project passengers will enjoy a luxurious flight from and to Australia on direct routes. 
By: Rida Khan (Aviation Author)
Instagram A/c: aviationauthor.ridakhan