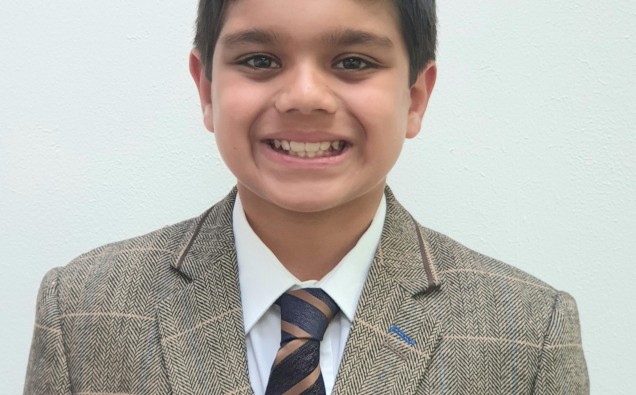 Milan Paul Kumar, aged 9, from Bolton has been recognised with the highest accolade a young person can achieve for social action or humanitarian efforts – The Diana Award.
Established in memory of Diana, Princess of Wales, the Award is given out by the charity of the same name and has the support of both her sons, The Duke of Cambridge and The Duke of Sussex.
MILAN PAUL KUMAR
NATIONAL LITERACY TRUST_BOLTON, ENGLAND_9
Aged only 9, Milan was awarded the 'British Citizen Award 2021' for charitable fundraising to support children and families most affected by COVID-19. During the first lockdown, he read 50 books in 3 months and was inspired to join the 'National Literacy Trust', where for ten days he cycled 50 laps of the University of Bolton Stadium. Milan completed another challenge in 2021 which involved 5 days of hiking, cycling and skiing. He wrote and self-published his own book, 'Covid Christmas Parade', with all proceeds going to the charity, and was congratulated by the Prime Minister. He also took part in the 'My Dear New Friend' scheme, supporting 15 care home residents to help combat isolation and loneliness.
 ​
———-
Tessy Ojo CBE, CEO of The Diana Award, says:
"We warmly congratulate our new Diana Award recipients from the UK and across the world who are changemakers for their generation. It is especially poignant as we remember Princess Diana twenty-five years on. We know by receiving this honour they will inspire more young people to get involved in their communities and begin their own journey as active citizens."  
———-
WHAT IS THE NOMINATION PROCESS?
Award recipients have been put forward by adults who know the young people in a professional capacity and recognised their efforts as a positive contribution to society. Through a rigorous nomination process, these nominators had to demonstrate the nominee's impact in five key areas: Vision, Social Impact, Inspiring Others, Youth Leadership, and Service Journey.
There are 20 Diana Award Judging Panels representing each region or nation both in the UK and internationally. Panels consist of three judges who understand the value of young people, including one young person representative. The panels have an important main purpose: to determine which nominations from each region or nation will receive a Diana Award.
Nominations are judged using the Criteria Guide and Scoring Guide which have been created to measure quality of youth social action.