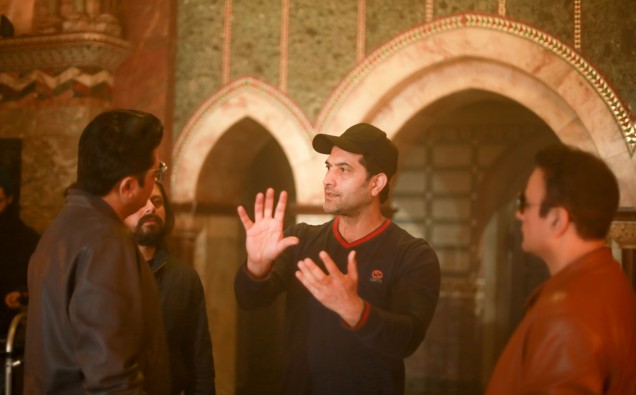 Imran, thank you for taking time out from your busy schedule to talk to us,
What made you get into acting industry?
I was bored of modelling, sometimes felt so artificial and cosmetic, so I thought I should discover something different. In 1999 I got an opportunity to act in a tele play and after that I never look back. 
As an actor/director, what is the most challenging role you have ever taken?
Being an actor, the most challenging role was in a film called Lajj, It was a periodic film and the challenge was its outdoor shoot, Which was the toughest I have ever had. Being director I shot my first music video for a British Asian band called Sparkk in two days, which was very challenging.
What event made you consider becoming a director?
During my acting career I experienced so many things, while working with different directors, actors, technicians I observed and learnt so much from them. And if you ask about one specific event which makes me consider myself a director then I would say I was acting for a telefilm and we were in a farm house to shoot a song for that telefilm but that song was not sounding good to me and neither to my co-star and my director she asked me and my co-star that we have to dance as well on this song but we both suggest her rather dancing on this song we can shoot it with some romantic montages, she liked my suggestion and asked me can you direct these montages for me and I said yeah I will do it for you and I did it. And when she edited all those shots, she called me and said those montages came out so good, she was so happy and recognised my effort in concern of our project, she told me that you have a director skills in you. From their its started in me.
As a child, what did you want to be when you grow up?
I always wanted to be a military person, Because I always felt real heroism being a soldier. My favourite toy was a gun, I felt more action and thrill with it.
Describe what your parents were like during your childhood?
 They both had different personalities, and both had one thing common in them they both had a lovely heart, very honest and kind but they were strong from outside.
Where did you grow up?
In Lahore city there is an area called Sannat Naggar, which is very closed to the interior city of Lahore.
Are you in a relationship?
I am in a relationship with my lovely wife.
Describe the best date you've ever had?
I had this date with my lovely wife, I borrowed a motorbike from my friend and took her in a garden, Although I didn't have money to buy anything for her. We were so busy in talking and looking each other that we didn't even bother about anything else. We were so happy that we made it possible.
What is the worst mess you have made in the kitchen?
When one day, I was making chicken pasta and parallel to this was making custard I burned the chicken but now I am fully trained. 
What are the things that you have spent money on and later felt like it was a total waste of funds?
My first camera kit, but now I realise it was not a bad investment.
 What inspires you?
Honesty and Humbleness. 
What does it feel like being a celebrity?
Its Blessing from Almighty.
What can a person do to attract your attention?
Respect and Kindness. Honesty and Humbleness.
What does it feel like being a celebrity?
Its Blessing from Almighty.
What are is the best compliment you received in public?
The best compliment I ever received in public was that I am a real time hero, rather then a Tv or Film.
What is the most memorable and exciting thing you have ever seen in your field/industry?
 All challenges were memorable and creativity always excite me.
What is your dream collaboration?
My dream collaboration is to create such film series with eastern and western content.
What is your future plans?
I am in a process of starting my own production company in UK soon. Under this production company me and my team we will produce and direct video songs, commercial adverts, films, documentaries, series etc.