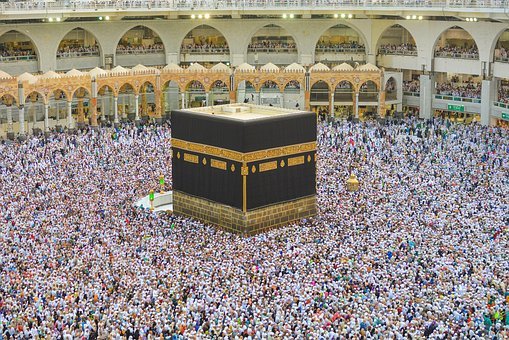 Climate change is increasing the risk of dangerous heat stress for pilgrims attending the Hajj in Mecca, according to research published in the journal Environmental Research Letters. If global warming is limited to 1.5°C, the chances of suffering heat stroke during the Hajj will increase five-fold, but if it reaches 2°C then the risk to pilgrims will be ten times higher.
This year the pilgrimage, which involves walking and standing outside, will fall on the 17th-22nd July – during Saudi Arabia's scorching summer. However, the month in which the Hajj takes place varies annually as it is based on the Islamic calendar.
Aid organisation, Islamic Relief sees first-hand the impact climate change is having on communities around the world in countries they work in, including Sudan (droughts/floods), Pakistan and Bangladesh (rising temperatures due to high levels of pollution.) In 2019 the NGO helped to bring attention to Massachusetts Institute of Technology's (MIT) findings on increasing temperatures faced during the religious pilgrimage.
Shahin Ashraf MBE, Head of Global Advocacy and the Global lead on COP 26 at Islamic Relief, said about Hajj:
"Hajj is the largest gathering of Muslims in the world. Millions of pilgrims pray outdoors from dawn to dusk and walk great distances to perform their religious duties and rituals in already high temperatures, and the temperature increase shows no sign of abating. Hajj is based on the lunar calendar, and for at least the next several years will fall within the summer months. The devastating impact on life and the environment could well be hazardous and the likelihood of heat exhaustion and heatstroke an inevitability, particularly for the elderly and the vulnerable who will be most at risk."
If humidity levels are high, sweat evaporates more slowly, leaving us more prone to damaging and even lethal heat stress. This year, wet-bulb temperatures during the Hajj could exceed levels classed as 'dangerous' a couple of times during the five days.
Dr Fahad Saeed, lead author of the recent study based at Climate Analytics, said "These temperatures will be really dangerous for pilgrims. It is of course possible to adapt with investment in cooling infrastructure, but in doing so, we are likely to alter the nature of these centuries old religious rites. This will be a major loss for our collective cultural heritage and particularly for people of the Muslim faith – this is defined as 'non-economic loss and damage'."
The recent scientific study used 'wet-bulb' temperatures to measure both heat and humidity. 'Wet-bulb' temperatures measure how much the air is cooled by evaporation. Because humans cool ourselves through evaporating sweat, 'wet-bulb' temperatures provide a more relevant measurement for how heat affects us than temperature alone.
Advice abounds on how to stay safe while performing the pilgrimage, from performing outdoor rituals early in the morning to seeking shade and drinking water. World Health Organisation advice on heat stress can be found here.
But if global temperatures continue to rise, 'dangerous' and even 'extremely dangerous' wet-bulb temperatures would be crossed far more often. It's four times more likely that people would suffer 'extremely dangerous' conditions during a September Hajj with 1.5°C of global warming, and a massive 13 times more likely with 2°C. Heat stroke, including heat fatalities, have already occurred on the Hajj – and as temperatures rise they pose a growing threat to a pilgrimage that has been performed for 1400 years.
Under the Paris Agreement, countries agreed to try and keep global warming to 1.5°C, and to be sure to keep it 'well below' 2°C. We have currently reached roughly 1.2°C of warming, and current policies put the world on track for about 3°C. World leaders have the opportunity to increase the ambition of their climate targets at a UN meeting in November.