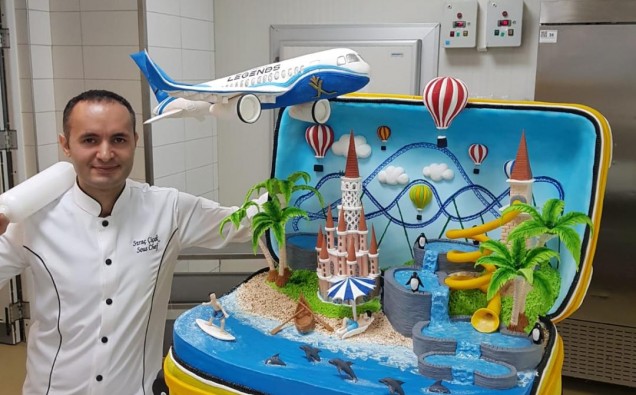 Chef SİRAÇ ÇİÇEK ( Instagram A/c : siraccicek_ ) is a Turkish pastry chef who is interested in baking creative cakes and culinary arts at the same time he is the member of the TAŞFED Culinary Arts National Team Chief  . His talent is showcased through his cakes which give others some shocking expressions but a happy smile.
Q.) Tell us about your career and achievements .
Chef SİRAÇ : My culinary adventure started in the year 2002, at that time I was following the art of cake , sugar fondant and chocolate. I developed myself in these areas and to sharpen my skills I have taken part in many competitions organized in European countries like Germany, England and Luxembourg etc. I won  two Gold medals in Luxembourg Culinary World Cup in 2014 , In 2016 I won three gold medals and two silver medals in London Hotelympia Competition , In 2017 I won two gold medals in England Birmingham Cake International Competition , In 2018 , I won first place with one gold medal in Luxembourg Culinary World Cup.
Q.) Why did you choose to become a dessert chef ?
Chef SİRAÇ : To become a dessert chef is not an easy task , being a cake chef was the most suitable area I can think of – I can do it with love.
Q.) Your cakes are more on theme of sculpture, portraits, cartoon characters . Any specific reason behind it ?
Chef SİRAÇ : I Love to surprise people. I love turning people's favorite characters into edible cakes.
Q.) Why did you specialize only in cakes though Turkish sweets are famous around the globe ?
Chef SİRAÇ : There are many chefs making famous Turkish desserts. I love being different.
Q.) It's not easy to create these types of cakes. What challenges do you face while making them ?
Chef SİRAÇ : I have never experienced difficulties making the cakes. Everything goes perfectly because I love my job.  
Q.) You are a member of the TAŞFED National Team. What is this team all about ?
Chef SİRAÇ : TAŞFED is the chefs Federation of Turkey, in which the valuable chefs represent our country Turkey abroad . I am one of the members of this team.   
Q.) As the culinary world is changing and we are moving from traditional to new creative food dishes. Do you think Turkish people are now preferring more cakes or donuts as compared to your traditional Turkish desserts (Baklava/Künefe/Cezerye) ?
Chef SİRAÇ : No, Turkish people never leave their traditional flavors in desserts or in savory food items but yes you can say that they are interested to try different upcoming flavors .
Q.) I have seen that Turkish cuisine, mostly desserts, are available in many countries. What makes Turkish desserts world favorite ?
Chef SİRAÇ : In my opinion it is the richness of the Ottoman cuisine because the ottoman pays attention to the kitchen and desserts are there in every time period.
 Q.) How do you feel when you are appreciated for your creativity by the people ?
Chef SİRAÇ : I feel very happy when people enjoy my work and I am more motivated towards my job. People's appreciation is what feeds my Art.
Q.) Mostly which types of cake people demand from you to make ? ( In the sense of creativity ).
Chef SİRAÇ : They mostly want me to create their own figures on the cake, I make animation characters  ( like tom and jerry , mickey mouse , road runner , aladdin and jinni etc) for children because they prefer these types of creativity .
Q.) Any advice would you like to give to the upcoming pastry chefs.  
Chef SİRAÇ : Pastry business is a continuous development field and if you love this profession, you will reach your goal.
By: Rida Khan ( Aviation Author )
Instagram A/c : aviationauthor.ridakhan