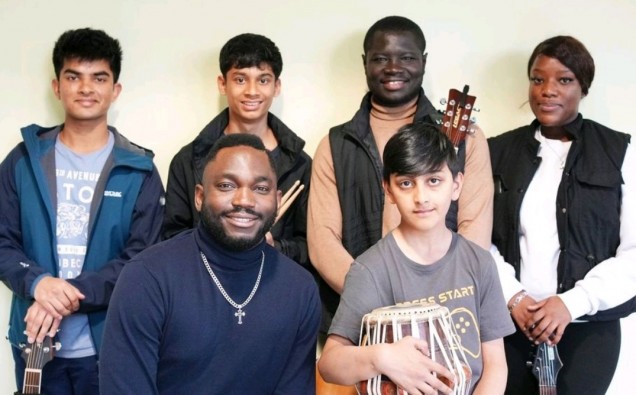 A brand-new music Ensemble for young people from migrant communities living in Birmingham has been chosen to perform in the 20th edition of Celebrating Sanctuary's Birmingham Refugee Week Festival on Saturday 25th June. Just three months after the Ensemble's launch.
The GLOBAL MUSIC YOUTH ENSEMBLE has been created by internationally renowned musician Sarvar Sabri, Co-Founder of the multi award-winning Sonia Sabri Company, who bring together participants aged 12-25 at Birmingham's Midlands Arts Centre each week.
Rehearsals provide over ten participants with a chance to share their cultures, experiences and skills with others who have travelled across the globe from countries such as Yemen, Congo, Zimbabwe, Haiti, India, and Pakistan to settle in the city.
Collaborating with established professional artists and musicians from Sonia Sabri Company and Celebrating Sanctuary Birmingham, the Ensemble enables young people with talent and potential to progress as musicians or producers, developing their music and personal skills.
The professional artists, some of whom come from migrant communities themselves and are inspirational role models, include Germa Adan known for her unique use of the fiddle and guitar. Her recent writing is influenced by Haitian, American, British, and global folk, as well as jazz harmonies, classical and contemporary composition techniques. Germa Adan was born in Les Cayes, Haiti, and spent a big part of her life in the US before settling in Birmingham. Her diverse ancestry of creolisation and unique journey across borders led to an organic sound within her music that captures the many influences that have shaped her as a person as well as a music creator.
Other professional artists include Katie Stevens a Royal Birmingham Conservatoire alumni. Her ever-growing fascination with woodwind instruments and the techniques integral to them allow her to travel and learn through lessons and workshops with great masters around the world. Katie plays regularly with Birmingham's eclectic folk/world band 'Bonfire Radicals,' the powerhouse that is megafolk band 'The Destroyers' and features as a freelance musician in many other groups that tour the UK festival and rural touring networks.
Ensemble Founder Sarvar Sabri is an internationally renowned tabla player and composer whose versatility and passion for rich diversity of the world's musical traditions has spurred him to experiment constantly with other world-class musicians, composers, and dancers.  As well as Indian classical music, Sarvar is involved with experimental work. His works ranges from BCMG in collaboration with composer Judith Weir, (CBSO
), Bournemouth Sinfonietta, East of England Orchestra and Sinfonia Baltica. He has worked with City of Birmingham Symphony Orchestra, LSO (London) and Viva Sinfonia (Derby).
Under Sarvar's guidance and musical leadership the Ensemble, which has enabled the musicians to develop their own GLOBAL MUSIC YOUTH ENSEMBLE sound,  will be performing two world premieres at Midlands Arts Centre featuring choral vocals, guitar, tabla and spoken word. The performance will feature 'Your Love' which tells the story of making a foreign country a place of their own, living in harmony, peace and love, and 'Crossing' about a journey into the unknown.
The Ensemble aims to tour across the country providing a unique opportunity to play a multitude of music styles and genres for a range of diverse audiences in a variety of venues, festivals, and spaces.
Sarvar who launched the Ensemble as part of Sonia Sabri Company's 20th anniversary this year said "To be asked to perform as part of the Festival during Refugee Week after only 3 months of being together is a testament to the talent of these incredible musicians.
No matter where we are born, music is one thing that we all share quite naturally. I am so proud that through this project, we can encourage these young people, who wouldn't normally have the opportunity, to continue to develop their musical skills."
The Global Music Youth Ensemble is in partnership with Celebrating Sanctuary Birmingham (CSB) a diverse music and arts organisation with a mission to support, promote and develop artists from refugee and migrant backgrounds.
Rachael Cox, Programme Manager, Celebrating Sanctuary Birmingham added: In our 20th year we are excited to be working in partnership with Sonia Sabri Company and the Global Music Youth Ensemble. This was an idea we first started discussing back in 2019, so it's been great to see it develop. It's a fantastic opportunity for artists from diverse backgrounds to collaborate and work in new ways, and for young people to have a diverse and open platform to share musical ideas whilst developing skills. We look forward to welcoming the ensemble to our Refugee Week Festival event at Midlands Arts Centre on 25th June."
For anyone interested in becoming a member of GLOBAL MUSIC YOUTH ENSEMBLE please contact Ciara Clayton, Programme Manager ciara@ssco.org.uk or info@ssco.org.uk    Participation is FREE.
Further information about Celebrating Sanctuary's Birmingham Refugee Week Festival on 25 June can be found here www.macbirmingham.co.uk/whats-on/music – tickets are Free.
Global Music Youth Ensemble will also be performing at this year's Moseley Festival on 17 July. www.moseleytogether.org.uk
More about Refugee Week can be found here www.refugeeweek.org.uk/about/
Sonia Sabri Company: www.ssco.org.uk