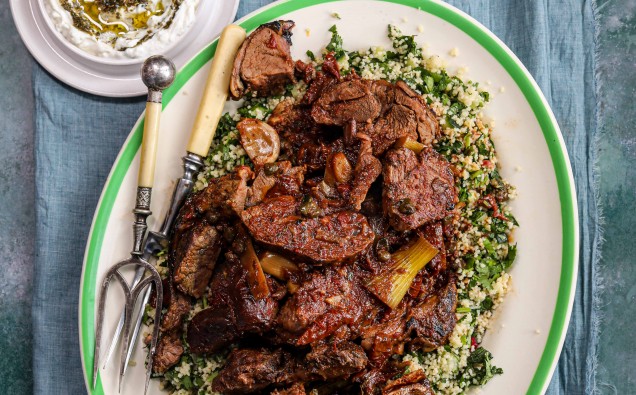 Forget the abundance of chocolate eggs or a buttery hot cross bun. If there's one thing that screams Easter, it's a traditional lamb roast dinner.
But if you're looking to spice  things up a little this year with something  a bit more special, celebrity chef and 44 Foods partner, James Strawbridge has you covered, with an epic Easter feast that combines traditional roast lamb with a taste of the Middle-East.
Think warm, smoky, spiced tender lamb laid on a bed of zingy, herby couscous, guaranteed to silence everyone at the Easter dining table… In a good way of course!
Recipe:
Serves 4-6
Ingredients:

For the lamb:
2 kg Scotch rolled shoulder of lamb
300ml red wine
250g chopped tomatoes
250g Medjoul dates
230g Odysea sun-dried tomato meze
2 tbsp olive oil
2 tbsp harissa paste
1 tbsp Tracklements traditional mint sauce
1 tbsp Tracklements fresh chilli Jam
1 bulb of garlic, broken into cloves but keep the skins on
1 bulb of fennel, roughly diced
For the couscous:
200g Suma couscous
½ pomegranate seeds
½ cucumber, diced
4 tbsp chopped fresh mint
4 tbsp chopped fresh coriander
4 tbsp chopped fresh flat leaf parsley
2 tbsp Crespo capers
1 tbsp olive oil
Pinch of sea salt
To serve: 
200g Odysea feta & Greek yoghurt spread
2 tsp Tracklements traditional mint sauce
1 tsp Odysea PDO Kalamata extra virgin olive oil
Pinch of cumin seeds
Method:
Rub your rolled lamb with olive oil and season with salt and pepper. Sear in a hot pan on all sides to brown the meat.
Next, brush the lamb with a mixture of harissa, mint sauce and chilli jam. Place in a roasting tray on top of a bed of garlic cloves, roughly chopped fennel and a full jar of sun-dried tomato meze. Pour in a tin of chopped tomatoes and half a bottle of good red wine.
Cover the roasting tray with tin foil and roast for 15 mins at 200˚C. Then reduce the heat to 160˚C and cook for 4-5 hours.
While the lamb is resting, make the couscous by cooking it in a saucepan with hot oil for 1-2 mins and then cover with boiling water. Place a lid on the pan, take it off the heat and after 10 mins, fluff up the couscous with a fork.
After a further 5-10 mins once the couscous has cooked and started to cool down, toss it in a large bowl with plenty of chopped herbs, pomegranate seeds, cucumber, capers and a pinch of salt.
Serve the lamb at the table by spooning the couscous in a lovely serving platter and laying the lamb on top. Spoon over the sauce to keep the lamb moist and the juices to soak into the couscous.

7. Mix some extra mint sauce into the feta yogurt to accompany as a side and sprinkle with a pinch of cumin seeds. Drizzle with olive oil and serve with the spiced lamb for a cooling dip.
Fancy giving it a go? The majority of ingredients can be found at www.44foods.com or, why not save yourself some time with the 44 Foods recipe bundle that gives you everything you need for your perfect Middle-Eastern Easter feast – all you'll need to do is the cooking.