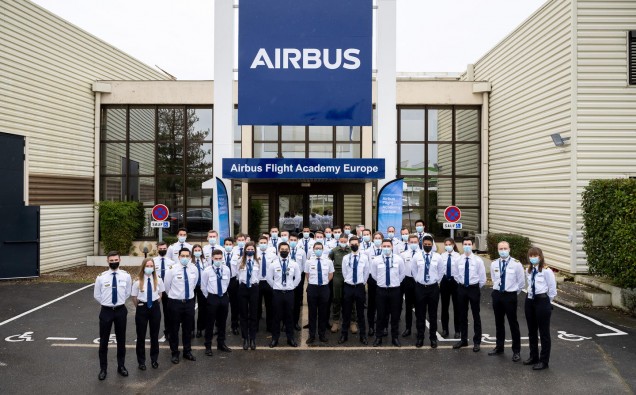 Recently Airbus inaugurated a new campus in Angoulême South West France and its first client is Barcelona based airline Volotea who will first recruit its Airbus pilot cadets. This step is taken because in future there will be a demand for pilots which is estimated to be around 550,000 over the next 20 years. Airbus is ensuring the commercial aircraft industry is ready for air traffic recovery in 2023-2025 timeframe after the major loss caused by Covid19 pandemic. Airbus has six different campuses across France in Salon de Provence, Cognac, Avord , Lann Bihoué, Lanvéoc and Angoulême.
AFAE (Airbus Flight Academy Europe) is the first flight school which will deliver the Airbus pilot cadet training programme in Europe. At one time up to 200 pilot cadets will get trained in the new building of approxi. 3200m2 with 14 classrooms, briefing rooms, simulator hall, auditorium and restaurant. A full facility will be provided to the aspiring pilots who will get trained.
The first client of this programme is Volotea, a Spanish carrier who has 39 aircraft; twenty Airbus A319, fifteen Airbus A320, four B717-200. Volotea will recruit eleven of Airbus newly graduated pilot cadets, these cadets will join Volotea and fly as commercial airline pilots from April- May this year.
Carloz Munoz CEO Volotea said, "This is a very important day for Volotea as we are taking cadets directly from the Airbus Flight Academy Europe for the first time. We're all very excited by it as we know the programme quality is of a very high standard, adapting perfectly to Volotea's training philosophy. Our company keeps on growing year after year our Airbus fleet and we're going to be needing more pilots. We certainly hope this is the beginning of a very successful long-term partnership with the Airbus Flight Academy benefiting many young pilots."
This training programme is open to high school graduates over 18 years old worldwide. Candidates will undergo online and on site screening tests before being eligible for training which will include 750+ hours of ground school plus 200 hours of practical (flight and simulator) training.
This approach is made by Airbus to train the "Pilots of Tomorrow."
By: Rida Khan (Aviation Author)
Instagram A/c: aviationauthor.ridakhan