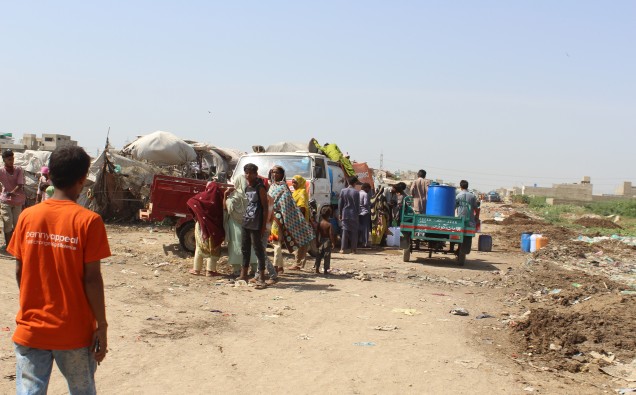 The international humanitarian charity Penny Appeal launched an appeal and given immediate aid to the flood-hit victims of Southern Pakistan, who have been struggling to cope with intense monsoon rains since the beginning of August. www.pennyappeal.org/appeal/pakistan-floods
Southern Pakistan has faced heavy seasonal rainfall, which has resulted in flooding in the majority of the Southern Districts of Sindh province, including Karachi, Dadu, Hyderabad, Thatha, Badin, Umerkot and Tharparkar. Dadu district has been severely affected, with damaged infrastructure and destroyed crops.
Throughout these districts, both rural and urban settings have been severely affected by the floods. Karachi, Pakistan's largest city with more than 23 million residents, is the biggest victim of urban flooding. Meteorological officials have said that the torrential downpours in August have shattered 89-year-old records for the city of Karachi, with some 484mm (19 inches) of rain.
Major roads and infrastructure across the city were submerged under several feet of water, with residents unable to reach hospitals and rescue workers deployed to attempt to save those whose homes had been destroyed. As water levels rose, the city's electricity utility company (K-Electric) shut down power to large parts of the city to protect citizens from electrocution due to malfunctioning wires or other machinery. Motorists abandoned their cars on major roads and were forced to walk, as many vehicles were washed away by the flooding water.
With the support of their partners on the ground, Penny Appeal have taken the immediate following steps:
Providing cooked food on a daily basis for approximately 500 individuals for at least 10 days
Providing food packs to affected families, which will feed a family of 5 for an entire month
Providing 10,000 litres of safe drinking water to flood victims for at least 10 days
Providing 1,000 20-litre jerry cans for water collection, 2 per family
In order to ensure the provision of appropriate shelter and long-term water supply, as well as sturdy health infrastructure and availability of latrines for affected families, Penny Appeal have planned the following relief and recovery activities:
1.  Provision of basic healthcare facilities
2. Latrine construction for affected families
3. Rehabilitation of damaged shelters of affected families
4. Rehabilitation of ground water tanks
5. Rehabilitation of water supply schemes/sources
Harris Iqbal, Penny Appeal CEO says: "We launched our campaign immediately to help the many people in Southern Pakistan who have either lost their houses, are without food and electricity, or are at serious risk of water borne diseases. Our partners on the ground are providing basic needs including cooked foods, water, flour and rice; all this is possible with your donations, so thank you for your continuous support in helping people in crisis."