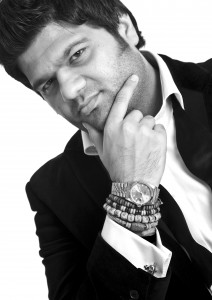 Knock, knock.
Who's there?
Orange.
Orange who?
Orange you going to let me in?
Ok, my jokes might not be up to standard, but British Asian actor and funny man, Mani Liaqat will certainly tickle a funny bone or two. Voted as Britain's funniest Asian in 2009, as well as having the privilege to perform at the engagement ceremony of Amir Khan (boxer) and Faryal Makhdoom, Mani Liaqat is quickly becoming a popular name in the British Asian household. His refreshing style certainly reflects his upbeat personality.
As part of the Alchemy Festival-which showcases the best of Asian talent- Mani will be touring the country starting with Oldham on 23rd May. Before Mani goes on the road, we caught up with him to share the difficulties he faced in getting to where he is today and tells us of his dream to become recognised on the mainstream stage.
How did you transition into this industry?
Well, I was born in Sialkot, Pakistan and came to England when I was 16, (not 16 stone, aged 16). I did a Diploma in Performing Arts in college, but unfortunately due to family circumstances, I was unable to continue.
Humour is something that is natural. I've always been a bit of a character. But to be honest, I'm more of an accidental comedian. In school days I was always on the stage doing speeches and reading some nasheeds. Everyone always said to me, 'you should be a comedian', but I never took it seriously. But in 2009, there was a comedy show on Star One and they were looking to find the funniest Asian in the UK. So, with the help of a friend, I sent in a short show reel, which was actually a show I was performing in Birmingham. I entered the competition and I won and was awarded the funniest Asian in the UK! Sometimes you surprise yourself as an individual.
BUT, you know Asians, we can't just be artists; we work, you have to be a good son, a good brother etc, so I started working and had 3-4 jobs. I used to work as a youth worker, as well as a few days in a cinema and also I would hold Bollywood and dance workshops.
How did your family react to your decision to become a comedian?
I might get killed after this, but the only person who really supported me was my sister. She has always been my rock. My brothers were very conservative and more into business. So when I told them I want to go into acting, you can imagine how they reacted, saying: 'no one in our family has ever done anything like this'. I laugh at it now, but at the time, it was very frustrating. If you speak to an artist, all they want to do is show their art. It was the people and their response that kept me going. You have to be passionate and determined and if you have that then your talent will definitely back you up. I just want to say thank you to those who have supported me because it's because of their prayers I've been able to do what I love.
How would you describe your comedic style?
"My style is observational, natural and charismatic"
I'm a very natural and observational comedian and every single show that I do, I have something unique to offer my audience. No two shows will be the same and the reason for that is my ability to interact with the audience and they become a part of the show.
I like to focus on women. A man's life is nothing without a woman, whether that's a mother, a sister or wife. I also like to discuss our culture. I think the biggest blessing I have been given is that I am a Punjabi and they are generally very funny people. My brother for example- he is not a comedian, but he is 10 times funnier than me.
I'm a natural born comedian. If I stop doing comedy, I'll still be funny. You can read 4 or 5 books and become a doctor or solicitor. You can't watch 4 or 5 videos and become a comedian. It's just something you have or you don't. Making people laugh is the most amazing thing you can do. To make Asians laugh is the hardest thing you can do!
What advice would you give to yourself if you could back in time?
Please do your homework. You need to do your homework. Don't do it for the wrong reasons that you want to be famous. Anyone can make a silly video and upload it on Facebook, but remember it is an art and you should respect your talent. Your talent can only take you so far- it's your skills and what you've learnt that takes you further.
How important is it for Asians to be recognised on mainstream television and media?
It's very important. Somebody has to bite the bullet. Unfortunately, even these days, many Muslim roles are still played by non Muslim actors and Citizen Khan is a clear example of that. So, to all the parents-please identify if your child has a talent. The only way we can make a change to the media, is if we are involved in it. I can stand outside a movie set and shout this and that, but that won't change anything. However, if I am working with them, I can show them and help them progress the Muslim name. As a Muslim, I don't think I've had the support I should have had. People complain that there is nothing happening for Pakistani's, but no, there are things happening, it's just up to us to do something about it.
PD
Comedian Mani Liaqat performing at the British Muslim awards 2015