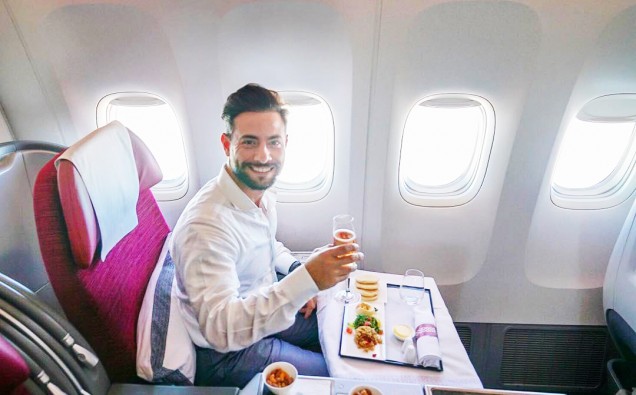 Food and travel are interconnected to each other, without food, travelling would be incomplete! You can take any route of travel through aeroplane, train, bus or by going for a long drive by car, with great dishes to accompany you along the way. When we travel to different countries we get to know about their roots, way of living, traditions etc. through meeting people, reading books, searching on the internet. But one of the most important things which will take you to the origin of the country's culture is the "Food".
Every food speaks a different language in terms of flavours, which are passed on from generation to generation. Each country has a specific food through which it is known for and local people make it famous for their country. There are so many food dishes which we don't get in our country but when we travel to other countries we get an opportunity to taste those delectable dishes which we didn't even know existed.
When any traveller consumes food in a different country, they get eager to know about its history; how that dish was created and why it is the most wanted dish among the people. Food gives you a new story about its origin and tells about the country's culture. There are food dishes which are made particularly for some specific occasions and the reason they are made, are only known by the region's locals.
Having a conversation with my pilot friend Captain Anas Amireh ( Instagram A/c – pilotamireh ) on this topic, he said that food for some people provides a kind of immense joy and happiness. Taste is one of our 5 senses and for some people satisfying this sense is enjoyment, giving them some positive vibes, feelings of happiness, and so on. At the same time, every place has a different cuisine, different dishes and these dishes represent and reflect their culture, the environment, ideas and ingredients people have in that place. If you go to India you will eat Indian food where one links the spiciness of food to the Indians, when you go to Japan you eat Sushi, here you can link seafood with the Japanese. Personally speaking when I travel I focus on the highlighted dishes of the country which are famous for their flavours and taste.
Thanks, Captain Anas Amireh for giving me your inputs.
I would like to say that if you are travelling then travel for food too, become a foodie traveller because food defines culture and gives you an opportunity to know a country in more depth.
By:- Rida Khan ( Aviation Author)
(Instagram A/c – aviationauthor.ridakhan)