 By Priti Modi
http://www.100percentvegan.co.uk/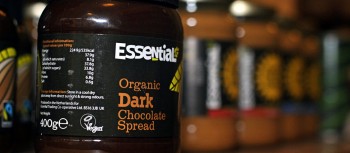 100% Vegan (previously named The One Earth Shop) originally opened in January 2014 and is situated in Digbeth next to the well known Warehouse Café. The shop is a haven for all things vegan / vegetarian and free from ranges, think artisan, independent with plenty of variety. From ethical household products to toiletries, fresh, frozen, preserved and packeted goods from all over the world. The ethos of 'ethically sourced' is so engrained in proprietor Mr. Ray Kirkhams' philosophy, that he had decided to paint the walls of his building with eco – friendly paint! The shop itself has also been awarded the honor of "best food shop for vegetarians and vegans" in the Midlands, a title that he is extremely proud of.
With a surge in interest of superfoods, teas, free from ranges and world food thanks to television, media and word of mouth, it would be of interest to those who are looking for that missing ingredient or have friends and family this winter (who due to dietary requirements and different tastes / cultures) might need some inspiration in food types available and an general alternatives to the norm.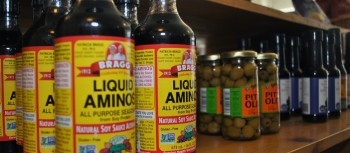 The shop offers everything from Kosher and Halal foods, to aruvedic ranges and interesting vegan snacks. Ray offered me various samples to try, including their famous cupcakes (including flavors including raspberry and almond) and a chocolate banana muffin. Ray sources these treats from local bakeries, Krull's and Ruth's in Highgate. My samples were absolutely delicious, fresh, creamy and light and no usual oily substituted ingredient tasting residue in sight.
As someone who was a vegetarian for 14 years myself, I have to applaud the samples. I also tried the vegan chorizo, mung bean and lentil wraps, raw chocolate and dairy free chocolate, all of which again were tasty and filling. Ray advised there is a growing trend in "raw" foods so he affiliates himself with Trishul Raw Chocolates. Vegan Vox makes the (non-raw) chocolate fudge. The sourcing of produce also stems from Rays overseas connections, he purchases specialty gluten free biscuits "Sin Gluten" which I am told are known for their wholesome authentic taste. For some products, Ray even ensures the mills producing the flour for some of his offerings are wholegrain and organic which depicts how much thought is used into promoting the company ethos. Ray works with predominately Co- Operative and fair trade organisations and the shop even has literature on the vegan / vegetarian lifestyle options.
The extent of the product range were impressive and hard to find ingredients on show throughout, including Palestinian Za'atar (dried thyme mix) soya coffee creamer (from the states) chocolate agave spread (alternative to sugar) and Amaranth (maize like grain hailed most recently as a super food) along with the usual dairy free condiments (including oils, pestos), bulgarwheat, rices, lentils, husk, spelt, (Engevita B12- nutritional yeast) and alike.
The snack range is perfect for passers- by wanting alternatives to the pre packaged meat products and includes pizzas and samosas. The quality of which were undoubtedly fresh and full of flavour, negating any misconception of the boring and tasteless offering which so many believe to be true when it comes to meat free / vegetarian and free from alternatives.
The household goods section was intriguing, one can find organic / "animal friendly dog food", eco friendly cleaning products, soy candles and even bamboo toothbrushes! They also offer a full Aruvedic range of incense and soaps hailing from India as well as natural hair tints and recycled toilet paper.
In conclusion, 100 per cent vegan is a hidden city gem offering shoppers a different outlook on all things ethical, fair trade and vegan, definitely worth a look if you are searching for that special hard to find ingredient or item, or simply to educate oneself in the international culinary realm, which you would struggle to find in your local supermarket.