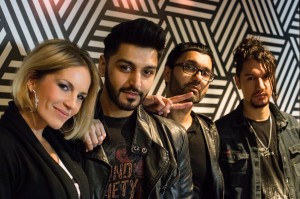 The Desi pop band launched their single 'Do It Again' from their latest album 'Upgrade' on Saturday 13th December 2014 at the Electric Club in their home town, Birmingham.
The band founded in 1998 by fellow member DJ Swami, have since received recognition internationally for their unique sound. They have released a string of albums over the years and got their 'big break' in 2004 with 'DesiRock'. Having developed their music style and becoming regulars on the festival scene worldwide, Swami has generated an international fan base particularly in parts of North America and India.
Artists that have previously released British-Asian fusion music have typically focused on RnB and Hip Hop as the Western element to their records. Swami deviates from that mainstream trend and creates a style that sets them apart from other artists.
Now, after four years 'So Who AM I' have returned with their most recent up-beat, electric house record 'Do It Again'. His fellow members Sur, S-Endz and Liana on vocals supported Dj Swami, who leads and produces for the group.
The Birmingham band known for their originality and multicultural style added something new to this single with Sur performing Hindi verses.
The Band introduced their latest album with high tempo, dance tracks, keeping the crowd engaged as fans sang along and danced to the familiar tracks. Swami interacted with the crowd creating a fittingly 'electric' atmosphere as people were encouraged to take pictures with them during their performance.
The vocalists each sang solos, showcasing their individual talent, as well as connecting as a group. The Hindi, Punjabi and English vocals and British-Indian melody made the music relatable to all those who attended. Though the crowd was small, groups of Asians and non-Asians entered the launch party and the diversity of the music was palpable.
Liana McCarthy joined the band in 2007 and as the only non- Asian member of Swami, her vocals add another layer to the performance. Lianas addition to the group has allowed Swami to develop and set them apart from the other Asian artists.