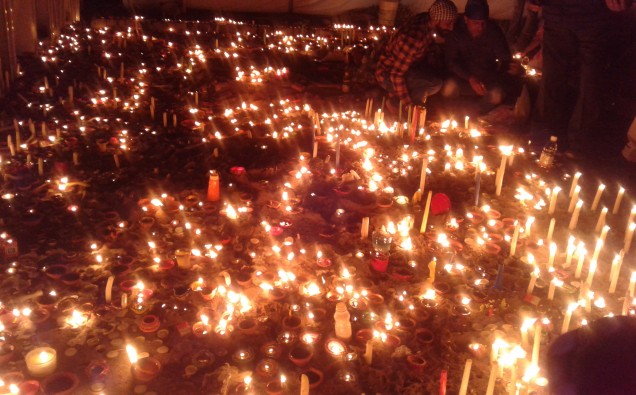 Chipping Barnet MP Theresa Villiers has used her Diwali message to pay tribute to more than a million men from pre-partition India who fought in World War One. Diwali and the centenary of the end of that conflict both occur this week.
In a message wishing her Sikh, Hindu and Jain constituents a Happy Diwali, Theresa said: "This year, the Diwali season overlaps with ceremonies to commemorate the centenary of the end of the First World War. At first sight, there seems to be nothing to connect this joyful Hindu festival with solemn remembrance of those who gave their lives in war.
"But there is a link between the two. 1.3 million men from pre-partition India fought for the Allies in the First World War. This week I have been wearing a special poppy made from khadi cotton made famous by Mahatma Ghandi.
"These limited-edition poppies have been produced by the Royal British Legion to commemorate the men from what was then the British Empire, and is now the Commonwealth, who fought in the First World War. Their sacrifice and service is something that should never be overlooked or forgotten."
Also in the message, the former Northern Ireland Secretary said that Diwali provided an opportunity each year to celebrate the much-valued contribution that the British Indian community makes to society.
"This community have achieved great success in so many areas including, business, the public services, the media, and civic society. Over recent decades British Indians have changed our country for the better in many different ways.
"I have been attending Diwali celebrations for several years and I am always touched by the warm welcome I receive.
"Beyond the festivities and fun, Diwali is also a time for personal refection on making positive changes for the year ahead. I hope that all people, regardless of faith or background, can identify with the values unity, charity and forgiveness, which are part of the tradition of Diwali. Its message of the victory of light over darkness, knowledge over ignorance, and good over evil, should resonate with people of all faiths and none."
Diwali festivities reach their peak tomorrow on Wednesday 7th November the 'day of light', coming to a close on Friday.
Theresa has attended a number of Diwali events this year including the 17th annual Parliamentary Diwali celebration, hosted by the Hindu Forum of Britain. She also joined the festivities at Bhaktivedanta Manor in Aldhenham at the weekend, the home of the Hare Krishna movement in the UK.   
The festival of Diwali also known as 'Deepavali', from the Sanskrit meaning row of lighted lamps'. Diwali is marked by lighting candles and letting off fireworks, recalling the traditional story of people lighting candles to welcome the Lord Rama home from exile.