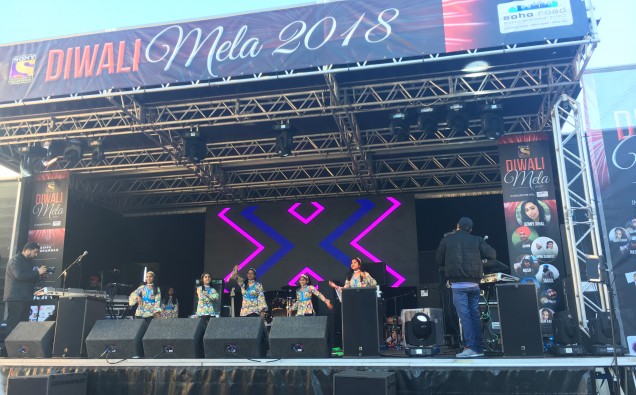 This year's annual Diwali Soho Mela attracted thousands of people from varying nationalities and faiths to the Handsworth, Birmingham area. The celebrations were a merge of different colours, tastes and sounds. Although Diwali, the festival of light, is traditionally celebrated by Hindus, Sikhs and Jains across the world, there was something to suit everyone's at this year's festival.
The enjoyment began on Sunday the 21st October from around noon, and continued until 7pm onwards, when the much awaited light switch on finally occurred. The Mela included a mini-carnival with rides suited to both children and adults of all ages. Some of the rides that families could enjoy included a ghost-train, carousel, flying pirate ship, sky cars and a jungle-themed fun-house.
There were also various food stalls and tents to meet the needs of everyone's taste-buds. The menu on offer included Western cuisine from the likes of Smokey Joe's, with FrankFurter hot-dogs, steak burgers and beef burgers galore. On the Eastern side of things were vendors serving steaming hot channae, aloo chaat and samosa chaat, and even a chai-waala. There were also traditional British foods such as your common chip-shop battered chips with fried fish, and chicken burgers, for those members of the crowd who weren't feeling so adventurous!
Some of the more exotic cuisine on offer also included Caribbean curries and spicy jerk chicken wraps, not to mention a candy stall with toffee apples and a candy floss machine for those of us who have a sweet tooth. The company 'Loco Lobo Tex Mex', who sell the likes of burritos and chilli and rice dishes, were also at Soho Road that day. A vendor managing the stall had travelled from Worcestershire to Birmingham especially for the event, and was also eager to comment on the festivities. He said: "We have a lot of friends in the catering industry who are Asian as well who have eaten our food and enjoy it. This is my first time at Diwali and we're hoping to attract a lot of Asian customers."
As the day's musical performances on the main stage officially came to a start at around 2pm, the first acts to go on stage were young children from the ages of around 5 to 16 years, from local schools around the Birmingham area. One of the groups of youngsters, who were dressed in traditional Indian clothing such as saris and heavy ornamental jewellery, were 'Holyhead Bollywood', a name inspired by their school of origin and style of dance. The children had been performing for just over a year at local Birmingham venues such as the Town Hall and Police Awards, and said they were already eager to return to Soho Road to celebrate Diwali next year and showcase their Bollywood inspired choreography again.
However, the Soho Mela did not solely feature singers and dancers who were performing South Asian music and dance styles. From the list acts who took to the stages, there were also reggae and rap artists. One young local rapper who performed at the festival said that it was his second year on stage at Soho Road. He commented on the liveliness of the crowd and "good atmosphere" at the event. He also further stated how everyone at the Mela was "just getting along", as all branches of the community were coming together as one to enjoy the music.
The Mela saw performances from some international artists based outside of the UK as well. AW interviewed Manpreet Shergill. It was his fourth year returning to the UK from India to sing at local gigs, but his first time at Soho road. He commented on how he thoroughly enjoyed the love he received from the crowd during his performance, and also how felt right at home in England's second city of Birmingham. He is soon to shoot a music video here in the UK and release 4 consecutive new singles, including a new hip-hop style track called 'Black-out' which will feature the iconic Asian artist Jasmine Sandlas.
One of the main headlining artists that our reporters interviewed at the Mela was MUJ Presley, an Indian Elvis Presley tribute act who had come to entertain audience members with his lively performance for the second year running. MUJ was dressed in a fully authentic and one-of-a-kind 70's inspired jumpsuit, complete with embezzled stitching and tinted sunglasses. He said he was expecting a "magic" atmosphere at the Mela, and also praised the event for "getting all communities together."
However, the Mela had a lot more to offer the crowd than music. There were also stalls advertising surrounding and national companies, from catering to banking, beauty, business and media. Locals were selling traditional South Asian clothing and textiles, as well as an array of vibrant and colourful occasion wear jewellery. Several national charities such as the NHS Organ Donation programme were on board as well. There were also volunteers from the Birmingham council, who were approaching members of the public in order to ask them for suggestions on how to improve their local ward.
Throughout the day, road closures were in place at the Soho Mela as traffic came to a standstill in order to accommodate the annual celebrations of Diwali. The road looked spectacular as the street and over-head lights were finally turned on for the holiday season. We definitely can't wait to see what next year's celebrations have in store!
Manisha Bhanot