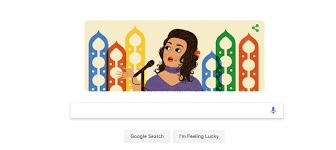 The leading search engine Google has altered its doodle to pay homage to the late best Pakistani singer Madam Noor Jehan on the occasion of her birthday. Noor Jehan is, no doubt, considered as one of the most influential and prominent singers to ever exist in Asia.
Noor Jehan was born on September 21, 1925 in Kasur (Pakistan) and came into the publicity for her inspirational acting and singing talents.
Google is honoring Noor Jehan by sharing her life from early phases of her life to becoming a superstar and describing her achievements and accolades.
According to Google, in her career of sixty years Noor Jehan recorded 10,000 songs and was given the title of "Malika-e-Tarannum" meaning "the Queen of Melody" for her admirable services during the 1965 war.
With her songs, Noor raised the spirit of the nation, especially the armed forces  in the 1965 war and was awarded the highest Pakistani civilian award 'Tamgha-e-Imtiaz'.
The internet giant parallels Noor Jehan's persona in the East from that of Marilyn Monroe in the West, celebrating her life by throwing light on her memorable career in Google and Arts Culture.
Google shares her cherished moments from the weddings and her family life.
Noor Jehan passed away on 23rd December 2000, but remains alive in the hearts of those who can't forget her voice.
By Ambreen Mahmood