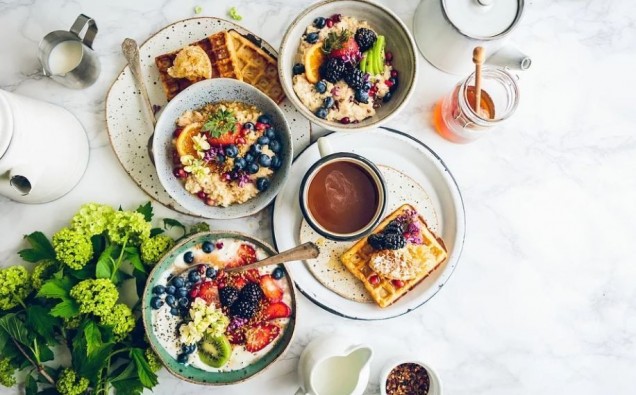 Columnist and Restaurant Reviewer Riccha Grrover writes that a visit to #Koolcha restaurant is a must for all Indian street-food lovers in London and is definitely worth writing home about! The yummy meal experience is a blend of traditional and cool, it's signature kitchen has an unpretentious style of cooking that stays true to his Indian roots in the heart of buzzing boxpark in Wembley London. An exclusive for Asian World news. 
Michelin-starred celebrity chef Rohit Ghai has become one of the culinary world's most in-demand chefs after a hugely successful decade on the London restaurant scene. Chef Ghai's precise and innovative cooking techniques and dishes have won him praise from celebrities, dignitaries and some of the nation's most discerning food critics.
Koolcha is Rohit Ghai's first Indian comfort food and cocktails restaurant. 
It is Chef Ghai's newest venture. Koolcha serves a menu of Rohit's signature biryanis alongside stuffed naans, small plates and grilled sandwiches.
Abhishake Sangwan  started his career in hospitality in New Delhi with the Taj Group, before moving to Dubai to open Burj Al Arab of Jumeirah hotels. In 2004 he moved to London, starting as Senior Manager of The Red Fort, Abhi then moved to join Tamarind of Mayfair. From 2011 to 2015, Abhi spent time honing his craft with roles at Yauatcha, the Tamarind Collection and Trishna Group. As part of the Trishna Group, Abhi managed the streamlined the launch of Gymkhana as Group GM, which went on to gain a Michelin star. Abhi successfully launched Jamavar as Director of Operations, London and then launched Bombay Bustle in 2017.
Koolcha is the second venture from Abhishake Sangwan and Rohit Ghai, partners in the well-received Kutir in Chelsea, and their first foray into a casual offering. The 60 cover restaurant includes a cocktail bar and serves a la carte, delivery and takeaway menus.
The decor at the restaurant is modern with comfortable seating, relaxed casual atmosphere, some vintage wall photos, mirror walls and nice lamps giving it character that aligns with the meal experience that is sophisticated and earthy at the same time and is sure to satisfy a range of taste-buds! 
Inspired by chef Rohit's family recipes from his childhood, Koolcha serves up  traditional North Indian 'Kulcha'- flatbreads stuffed with unique flavours. They are served alongside a delicious selection of homemade pickles, raita, black dal, chutneys and an exotic drinks menu featuring cocktails, Indian beers and fruit iced teas.
At Koolcha A la carte options include a number of Rohit's must-try signature dishes, including ​Ghati masala prawns (£8), Lamb or Vegetable biryanis (£12 – £14), as well as entirely new dishes like the Paneer tikka masala grilled sandwich (£8) and a ​Lamb khurchan slider (£8). The menu also features '​Koolcha Meals'​ (from £7) which include a kulcha, pickles and salad, and '​Combo Meals​' (from £10) which come with a kulcha, pickle, raita, pulao and salad.
Dishes are served alongside a short menu of punchy cocktails like the ​Appu ​(meaning elephant) with mandarin-infused Ketel One, lemon sherbet, amaro Montenegro and ginger beer (£6.50), beers such as the ​Malabar IPA (£3.5 half/£6 pint) and ​Cobra (£3.5 half/£5.5 pint), and Rohit's signature ​Masala Chai​ (£2.5).
On his menu chef Ghai said, "​It's exciting to be able to adapt my food and play around with a more casual offering. I love fine dining, and that will always be important to me, but I'm enjoying the freedom of this new brand and menu and looking forward to serving relaxed, regularly changing street food dishes at Koolcha"​. 
Koolcha is an eat-in restaurant at Boxpark Wembley. The service is impeccable, the food taste, quality, portion sizes, presentation are all top-notch and the vibe is cool. Koolcha is taking Indian street food to the next level in chef Rohit Ghai's signature distinct style. Koolcha offers a good variety of small plates to satisfy discerning diners various favourite Indian street food cravings all in one restaurant. 
It's situated near the Wembley stadium so it should be your treat pit-stop if you are there or if going there to try a pan-Indian meal especially which is highly recommended it's worth checking what's-on at the stadium to ensure you do get a seat as it's likely to get busy with it's reasonable menu and superb high-standard comfort foodie offerings and has all qualities of becoming a favourite jaunt! 
Rating- all 5 stars! 
KoolCha
Unit 21, Wembley Boxpark, 18 Olympic Way, Wembley HA9 0JT