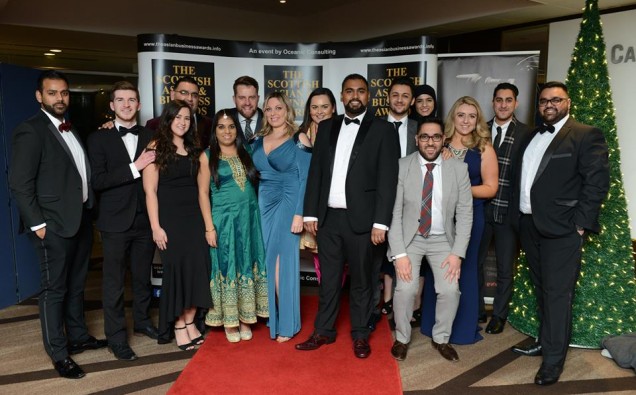 Winners for the 13th Scottish Asian & Business Awards have been revealed after a glamorous, black-tie awards ceremony was held at the Crowne Plaza Hotel on Tuesday the 18th of December in Glasgow.
The much-anticipated annual award ceremony began its journey in 2006 and exists to honour and celebrate the hard work of Asian professionals, community groups, activists and businesses that have succeeded, excelled and persevered in the Scottish Asian community. Categories this year were wide-ranging, honouring entrepreneurs and professionals across private, public and third sectors.
The event was organised by the UK's leading ethnic consulting and promotions organisation Oceanic Consulting, finalists at the Asian Media Awards 2017 for their impact in the Marketing & PR Sector. Oceanic Consulting are responsible for some of the most successful and well-known events in the country, including the British Indian Awards, the Curry Awards, and the British Muslim Awards.
Irfan Younis, CEO of Oceanic Consulting said: "We would like to congratulate all winners and finalists rewarded at last night's 13th Scottish Asian & Business Awards 2018. The 13th Scottish Asian & Business Awards produced some memorable and hilarious moments, honoured some of my personal role models including Bashir Ahmed and the Chhokar Family, and gave thanks to those hard-working and brilliant people who cement Asian culture and presence across all sectors of industry in Scotland. Fantastic night with top people, amazing food and continued legacy & I already can't wait for year 14!"
With 29 awards presented on the night, the winners are as follows:
Rising Star in Law: Raees Khan (Jones Whyte Law)
Business of the Year: Asif Ashraf (Smartways Extra)
Rising Star of the Year: Harjit Singh (HRC Recruitment)
Best in Civil Service /Third Sector: Raza Sadiq (Glasgow Council for Voluntary Sector)
Food Entrepreneur of the Year: Cook Gill and Indi (Cook & Indi's world buffet)
Micro Business of the Year: Nadia Mohammed (Personal Match)
Franchise of the Year: Suhail and Tasnim Rehman (Home Instead Senior Care)
New Business of the Year: Tauseef Masud (What the Fudge)
One to Watch Award: Kamran Khalid (JP Morgan Chase & Co)
Retail Business of the Year: Asghar Mohammed/ Suraj Mohammed (Abbey Pharmacy)
SME Business of the Year: Zeeshan Khokhar (Khokhar McAdam Chartered Accountants)
Small Business of the Year: Kamran Butt (Kam Removals)
The Chhokar Family Legacy Spirit of Scotland: Iftiker Sharif (Scottish Ethnic Minority Deaf Club)
Woman of the Year: Kay Singh (University of Glasgow)
Best Community Convenience Retailer: Asif and Abada Akhtar (Premier Smeaton Stores)
Convenience Retailer of the Year: Imran Ali (Day-Today Bourtreehill Supermarket)
The Abid Bashir Retail Entrepreneur of the Year: Adeil Hussain (One Stop Airbles Street)
Medical Professional of the Year: Sivaramkumar Shanmugam (Glasgow Caledonian University)
Professional of the Year: Araf Saddiq (Scottish Ambulance Service) and Pete Cheema (Scottish Grocers Federation)
Makeup Professional of the Year: Saleema Ali (Saleema Ali Hair & Makeup)
The Bashir Ahmad MSP Community Initiative of the Year: Saqib Razzaq (Colourful Heritage)
Best Professional in Business: Jwad Hanif (Miller Beckett & Jackson Solicitors)
Fashion Boutique of the Year: Khizar Ali (La Dona)
Takeaway of the Year: Sajjad Mohammed (Taj Tandoori)
Garage of the Year: Farhan Ahmad (M I Garage)
Asian Food Retailer of the Year: Aqsa Ali (World Foods)
Charity Work of the Year: Javaid Ullah (Human Appeal Scotland)
Restaurant of the Year: Michael Singh (Panda Cuisine)
Outstanding Achievement Award 2018: Kasim Gulzar (Honey Pharmacy)