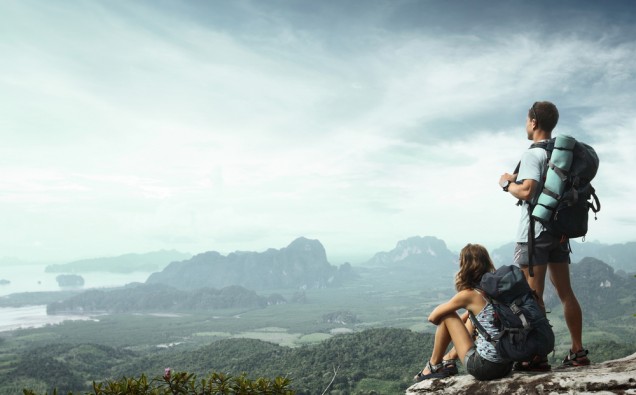 Parents naturally want the best for their children – and when it comes to language learning, nothing compares to the immersive experience offered by Ecela. Of course, being a parent means having questions and concerns. Is the program effective? How is it organized? What does the program cost? Ecela has answers to all of these questions and more, so that parents can breathe a little easier. A wealth of information for prospective students and their parents is available at
https://ecelaspanish.com/spanish-immersion-no-fail-way-learn-spanish/.
"We've developed a 'no-fail' approach to learning Spanish based around travel, cultural experiences and small, highly interactive classes," says Ken Ingraham, President of Ecela. "Our goal is to help learners of any skill level rapidly expand their knowledge of Spanish, all while making memories that will last a lifetime."
Trying local dishes after a cooking class.
Trying local dishes after a cooking class.
Ecela Spanish Small Classes
Ecela Spanish Small Classes
Small Classes – Lots of Repetition
Ecela's classes on language fundamentals like grammar and vocabulary have no more than eight students, while the conversational classes have only four. This means students won't have the option of "hiding" – participation will be a major part of the experience. Repetition and speaking, rather than passively listening, are keys to building competence.
Just as importantly, Ecela does away with the feverish competition that's par for the course at colleges and universities. The program doesn't assign grades. Instead, students are working cooperatively to improve each other's skills, and compassionate instructors do everything to facilitate a supportive and enriching climate. Every instructor is a native Spanish speaker selected for the program based on his or her personality and "fit" with the Ecela philosophy, not just flashy credentials.
Low Cost, Invaluable Knowledge
Based on a per-hour comparison, Ecela's Spanish language-learning program costs about 80% less than a comparable program at a private institution. All of that extra money can then go toward travel and other expenses. Parents can meanwhile rest a bit easier knowing that the Ecela experience won't come at the cost of college savings.
Another way for students to save money is to choose the homestay option rather than a hotel for room and board. Living with a homestay family offers an incredible opportunity to hear and speak Spanish all day in a natural environment.
Versatile and Immersive Programs
Only half of each day with Ecela is spent in a classroom. The remaining hours consist of "free" time, during which students are encouraged to participate in any number of extracurricular activities, from museum visits to lessons on local cuisine and cooking techniques. Students are free to transition from one school to another as they travel around South America. Ecela currently has classes in Buenos Aires and Mendoza, Argentina; Santiago and Vina del Mar, Chile; and Lima and Cusco, Peru.
Many students return in later years to further enhance their Spanish skills, and add new cultural experiences to their store of knowledge. Nearly everyone who completes an Ecela program will happily sing its praises. Parents can be confident that the program will make a profound and lasting difference in the lives of their teenaged and college-aged children. Courses can be reserved today via Ecela's pre-booking form.
About Ecela
Ecela (http://ecelaspanish.com) is a Spanish language-learning program with six sites in Peru, Chile and Argentina. Thousands of students from across the globe have taken advantage of the small classes and affordable tuition to learn Spanish while enjoying everything the local culture has to offer.