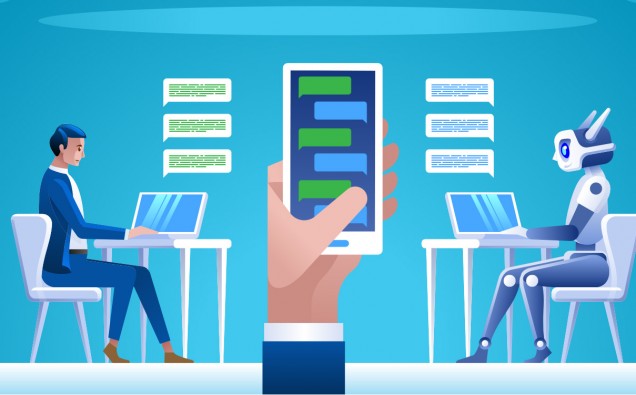 By our technical correspondent: Khalid Karim
Artificial Intelligence or AI isn't just for Fortune 500 or FTSE 100 companies anymore. Thanks to a number of innovations in the last few years, small businesses and entrepreneurs now can leverage AI technology to improve not only their social media engagement, they can tap into their operations, connect with their customers on a deeper level and ultimately, boost their sales.
What is a Chatbot?
Simply put a program that automates certain tasks by chatting with a user through chatting or messaging interface.
More advanced Chatbots are powered by AI, which helps them to solve problems, messages are more personalised and interaction is improved over time. This tool is still in its infancy, but more and more people are starting to take notice and use Chatbots on a daily basis without even realizing it. Even Facebook has named dropped a few brands to its business users to help them increase engagement and gamification.
Chatbots are becoming the new trend for many platforms, websites etc. Biggest trend has been seen on Facebook. They are becoming more human-like. A lot of business owners and big companies are using them more and more.
They have also come in the form of Voice Experiences, which Google and Amazon have been battling it out with so-called smart speakers market.
Chatbots are here to stay. Innovators like Amazon and Google are leading from the front, and developers are making use of them on platforms like Facebook for all to use. The design and architecture are continuing to improve and we will see interactive bots become the standard for customer service and customer experience. They say robots are replacing a lot of workers, well chatbots may not replace call centres but they will help reduce some element of manpower along with lowering costs in operations as demand grows through improved technology.
Last year, so many companies – including Starbucks, LinkedIn, and British Airways – have put their weight and support behind the development of Chatbots and expressed an interest in implementing them into their operations.
Other known key players Microsoft and Apple have been investing in this technology for years at this point, so it's natural that other sectors, companies and industries will catch up and continue to spend more money on development of Chatbots.
These days, your average customer expects to have an app as a part of the customer service process.