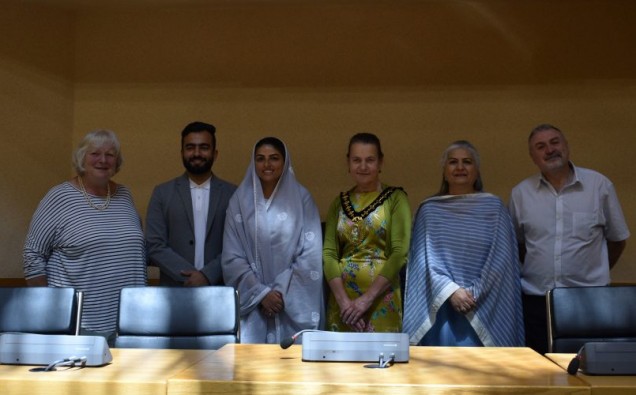 Her Holiness, Mata Sudiksha Ji Maharaj, the spiritual head of the world-wide Sant Nirankari Mission, has paid a goodwill visit to meet civic leaders in Sandwell.
Her Holiness met the Mayor of Sandwell Councillor Ann Jaron and council leader Councillor Yvonne Davies during a visit to Sandwell to attend a three-day Nirankari Youth Symposium.
Councillor Davies said: "It was a pleasure to meet Her Holiness who had travelled to Sandwell to meet members of the mission based in the borough. I was pleased to hear that so many people enjoyed activities as part of the Symposium at Tipton and Wednesbury.
Event organiser Gurpreet Bhatia said the Symposium was a very important event for mission followers and they were greatly honoured to have Her Holiness attending the activities.
The Mission, which has more than 10 million followers across the world and its Headquarters are in New Delhi, India.
It has a local Centre for Oneness which are the Charitie's UK headquarters at Great Western Street in  Wednesbury, which organises numerous initiatives with a view to creating greater understanding within our diverse community and to build bridges.
Mr Bhatia said the first day of the event involved a special games event at Tipton Sports Academy which was designed to promote good health and well-being.
The other two days were held at the Wednesbury centre including a symposium to encourage youth to participate and make a positive contribution to their local communities and yesterday a conference was held on the theme of humanness
Mr Bhatia , who serves the region as a Deputy Lieutenant of the West Midlands and works to raise the profile of the region, by encouraging organisations, to bring their events to the area, in particular Sandwell to establish positive social and economic impact.