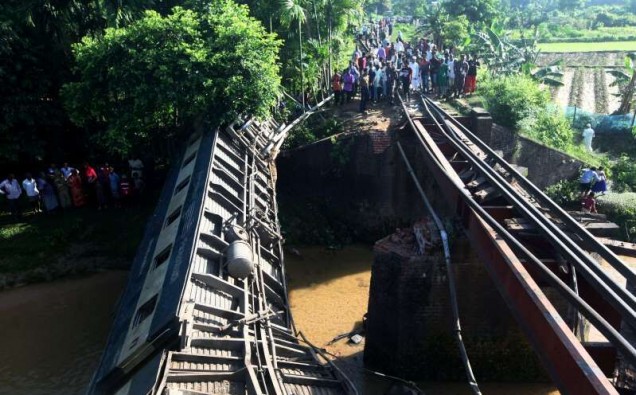 A tragic crash occurred in Bangladesh in the early hours of the morning, in which the Uyudan Express bound for Chattogram hit the final carriage of the Turna Nishitha train headed to Dhaka, at the Mondabagh Railway Station. At around 3.30 am, the trains collided, the impact of the accident was significantly worsened due to the darkness and many passengers being fast asleep. 
First on the scene were the railway authorities, beginning their rescue operation with the aid of the local people. The emergency fire and police services joined the operation soon after. 10 people were declared dead at the scene, with almost 40 others admitted to various hospitals across Bangladesh. In total, over 50 people were injured by the tragic accident. There also spread a concern that bodies were still trapped amongst the wreckage.   
The impact of the collision was furthered in the wide-spread disruption to the train systems, although such an impact was on a much lesser scale than lives lost. For 8 hours all interconnection was suspended between Dhaka and Chattogram or Sylhet, due to the obstructed train lines as the relief train did not appear on the scene for at least two hours post-incident.   
The exact details of the accident are still unknown, and the Brahmanbaria District Administration has begun an investigation into the crash. There remains speculation as to the cause of the accident. There was first the concern that the signalling was faulty, and the indication for the Turna Nishitha was not there. However, there has been a further suggestion that the driver of the Dhaka bound train was at fault, disregarding the apparent signal and hitting the final bogey of the train intentionally. 
Compensation was offered to both the injured victims and the families of those who had died. Each of the families were sent TK 100,000 (approximately £915) for compensation of their loved ones' deaths, and a further TK 20,000 for their funerals. Those who were injured were also compensated, getting only TK 10,000 (£91), a small price to pay for the drastic loss and disruption caused. 
The carnage created from this tragic accident has highlighted the need for improvements to the railway services and its staff, with an emphasis on the need for improved and better-quality training for drivers and the body of railway workers in general. The trains are the safest mode of transportation for the people and goods of Bangladesh, so it is important that they maintain optimum safety. As made evident by this tragic incident, drastic improvements, therefore, need to be made. 
By Grace Lea