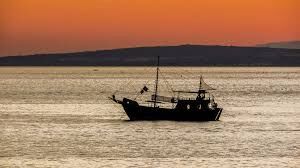 The Bangladeshi Coast Guard suspect the Indian fishermen may have crossed the sea border because of turbulent weather conditions  
Hundreds of Indian fishermen became stranded out in the water after rough sea conditions left them afloat for four days. They arrived into their neighbouring country's territorial waters in Patukhali, as the currents led them to south-central Bangladesh.  
One of the sailors who had been saved was Rabindranath Das, 25, who had been afloat with just the aid of a piece of bamboo and several jerrycans tied together.  
He commented on what it had been like for him and his fellow crew when they were stranded at sea. He said: "All the time while trying to survive amid heavy waves I kept praying but saw no ship or trawler around. Once I started losing my hope and then out of nowhere, I found a life jacket thrown by the crew of this ship and I got a second life."  
Talking to members of the press, Das, who is from Narayanpur Village, Kakdwip, stated that he had been one among 13 others who had left the port of Kedua in fishing trawler FV Nayan-1 just days prior to them being stranded. The morning after they set off they were caught in a heavy storm and their vessel capsized.  
Das revealed further details of how he was the sole survivor among his crewmates. The rest had either washed away or died consecutively.  He said: "I held my nephew Swapan until Wednesday morning but he was washed away only three hours before I was rescued by the crew of MV Jawad", amid choking back tears. 
Das was rescued by MV Jawad, who was en route to Chattogram Port from Dhamra in India. The captain found the fisherman floating around 50 nautical miles off the coast of Kutubdia at around 11 am in the morning. 
Captain SM Nasiruddin said that Das had no clothing "but shorts" on. His skin was also "completely pale" and bearing lesions of where fish had bitten into him.  
The total, 519 fishermen who had been saved were kept under the protection of the Bangladesh Coast Guard (BCG) and will be sent back to their home country following the appropriate procedure.  
"The Bangladeshi foreign ministry and other relevant agencies have already held meetings with the related Indian authorities, and the fishermen will be handed over to Indian Coast Guard soon after the current rough sea weather clears up," said Lt Commander M Hamidul Islam of the BCG. 
The Lt Commander mentioned that the BCG had not imprisoned or arrested any of the survivors they found. They were instead held in their protective custody and provided with medical treatment, food and water, as well as a place of rest. 
He did, however, mention that Indian authorities would look into the matter, and assess if the men had crossed into Bangladesh sea territory as a result of bad weather, or with intentions of fishing.  
Manisha Bhanot