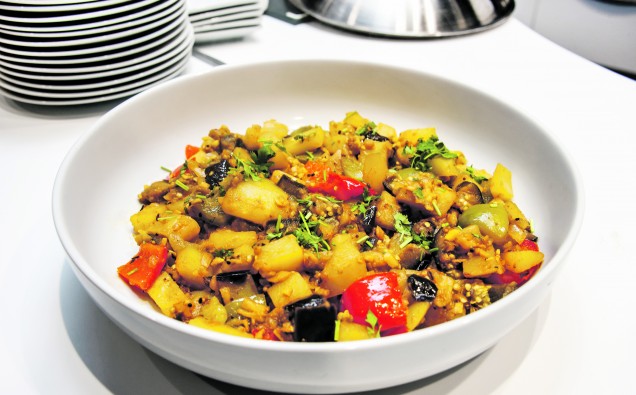 INDIAN cook Sarah Ali Choudhury is certainly flavour of the month at the moment and she has been popping up at food festivals and demo kitchens around Dorset and is fast becoming the new face of Indian food following her national TV debut on Channel 4's My Kitchen Rules.
The mother of four and founder of Easy Curry, was born in Bournemouth, her parents from Assam in India and Guyana in South America, while her husband is from Bangladesh.   Sarah was recognised as the youngest Asian female to manage an Indian restaurant at the age of 20 when she used to work with her parents in The Taj Mahal Restaurant in Bridport.
Sarah, the self-confessed foodie tells us  "After spending most of my life in the Indian food business and having family from different parts of the world enhances my passion for different styles of cooking but also now as a mother of four, I understand the importance of being able to create delicious and healthy meals as quickly and easily as possible and thats exactly what I'm about.  I have an abundance of food knowledge and skills to share with people who are just as passionate about food as I am.  My dishes are easy to cook and taste incredible. I am not just a lover of Indian Food but I love the clothes, the colours and the vibrance of India".
Sarah runs her own cookery classes and demonstrations as well as her own YouTube Channel where she will be regularly uploading new recipe videos.
YouTube:  Sarah Ali Easy Curry
Aubergine, Red Pepper and Potato Bhaji 
Ingredients
4 tbsp Oil
2 tsp Panch Phoran
1 Medium Onion peeled and chopped 1 Inch Ginger peeled and grated
5 Cloves Garlic finely chopped
1 tsp Salt or to taste
1 tbsp Coriander Powder
1 tsp Chilli Powder
1 tsp Turmeric
1 tbsp Tomato Puree
1 Potatoes peeled and cut into 3⁄4 inch cubes
1 Aubergine cut into 1⁄4 inch cubes
2 Peppers green and/or red, cut into 1 inch pieces 2 cups (500ml) Water
2 tbsp Chopped Fresh Coriander 
Method:
Heat oil in a saucepan over a medium heat. When hot, add the panch phoran and cook until sizzling then add the onion, ginger and salt, stirring occasionally.When the onion softens, add the coriander powder, chilli powder, turmeric and tomato puree and continue stir frying until the oil comes to the top of the mixture.  Add the potatoes and stir fry for about 2 minutes. Add the aubergine and peppers, stirring for another 2 minutes.Pour in the water, cover the pan and cook for about 15 minutes, or until the vegetables are soft. Garnish with fresh coriander.
You can use other seasonal vegetables such as courgettes and tomatoes.
What is Panch Puron?
This is the state of the art blend of the Indian five spice which consists of equal parts of the following: fennel seeds, cumin seeds, fenugreek, nigella seeds and mustard seeds.
This is always used whole and not blended. This pops when in hot oil, it infuses the oil, increases the flavour of the dish and the aroma is distinctive and mouth watering.
The spice blend is used widely in Bangladesh, Eastern India and Southern Nepal especially in Bhojpuri and Assam.