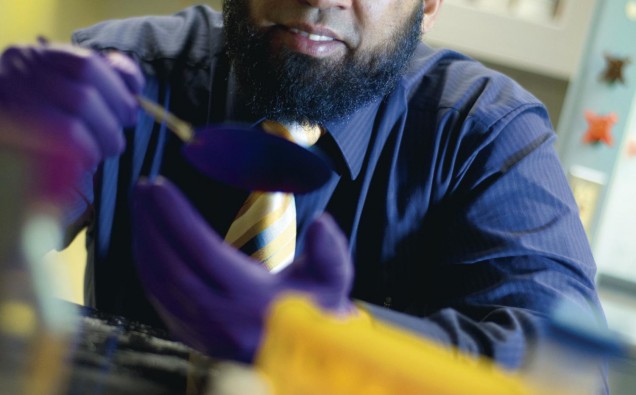 By Aneesa Malik
A new development in the way cancer cells are detected has been made by a Pakistani electrical engineer at the University of Texas at Arlington.
Samir Iqbal outlined the tool works by tracking cellular behaviour in real time using nanotextured walls that mimic layers of body tissue.
His findings were published in the recent Nature's Scientific Reports paper called "Effects of Nanotexture on Electrical Profiling of Single Tumor Cell and Detection of Cancer from Blood in Microfluidic Channels."
Iqbal has worked on the project with Young-tae Kim, a UTA associate professor in the Bioengineering Department; Muhymin Islam, a STEM doctoral candidate; and engineering students Mohammad Motasim Bellah, Adeel Sajid and Mohammad Raziul Hasan.
"The answer was in creating a nanotextured wall that fools blood samples into thinking its actual tissue," Iqbal said. "We used inherent properties of the cell walls to create a diagnostic tool. The cancer cells behave differently as they come into contact with the nanotextured walls. They dance," he added.
Those described as 'dancing cells' will become easier to identify and therefore cancer will be easier to detect in patients.
The published results stem from a 2014 $480,000 National Science Foundation funding that sponsored the design and creation of the device. Iqbal has received nearly $1.4 million in grants since his arrival at UTA in 2007.