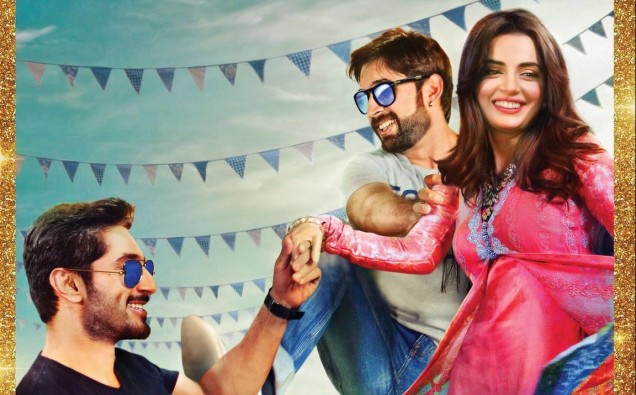 Directed by Azfar Jafri, the Pakistani rom-com Janaan releases in celebration of Eid-ul-Adha. The much anticipated film follows Meena, played by Armeena Khan, as she travels from Canada back to her roots in Pakistan, where she meets two men, played by Ali Rehman Khan and Bilal Ashraf.
Asian World had the opportunity to speak exclusively with the lead cast members about their roles in the film, as well as the rise of Pakistani cinema overall.
Armeena Khan
1. You are the leading actress in the film. Can you tell us a bit more about your role?
My character in the film is the best friend that everyone wants (laughs). She's the kind of person who would take you out if you are feeling down; she's very trust worthy and always looks for the good in people. She is a Pakistani Canadian, but returns to her roots after 11 years.
2. Do you see any resemblance in the character you're playing?
I think in terms of ambition, we are quite similar; but apart from that we are polar opposite, I would say. I am an extrovert and introvert together, I'm a very soft spoken person; so playing the polar opposite was challenging, but that's where the versatility comes to be able to do justice to your character. Also, a lot of my friends tell me I'm like the agony aunt, so I like to help people.
3.You've done a lot of work in dramas. How difficult was the transition between television and film?
I started off in film, and transitioned into television. I was offered the position to work in dramas and I wanted the challenge. I was very honoured to be able to play a few roles, which helped me polish my craft. I was able to become a better actress as I was able to explore my strengths and weaknesses.
4. How do you think the role of a woman has changed in Pakistani cinema, compared to 10 years ago when a female was seen to be subordinate?
I think I've been very lucky, because things are really changing. If you look at Pakistani dramas now, they are very female centric because of the viewership. I think the dramas and films reflect that now. Even in Janan, I play a very female empowered role where the heads of the house share the responsibility equally.
5. Reham Khan was one of the producers on the film. Can you tell us what it was like working with her?
Reham Khan was very professional, supportive and lives up to her reputation. She was very much hands on in the film, even though she had other commitments. I really look up to her, she's a very good role model and I think a lot of young girls can learn a lot from her.
6. You were one of the first Asian actresses to walk the red carpet at the Cannes film festival. What was the experience like?
It was an amazing experience standing on the same carpet as some of your icons. I think our industry still has a long way to go in terms of recognition in an international arena- it's a whole different ball game. It's all very well to be centre stage in your comfort zone, but when you come out of that, you realise how much there is left to be conquered.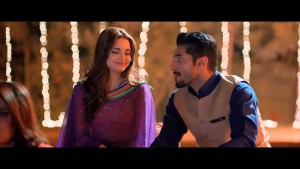 Bilal Ashraf
1. Can you start by telling us your role in the film?
My character is raised in Swath, Pakistan and has many different shades to his character; you see him happy and sad. So there is a range of emotions he goes through.
2. How difficult was it to pick up Pashto, since you're not Pathan?
There were a few words here and there and there was a song in Pashto, but we managed to pull through because we had a very good team working with us. Both the directors and writers really supported me and Ali is Pathan, so he really helped me out a lot.
 3. You are a visual effects director. So what was it like trading places from behind the camera to in front of the camera?
I think it helped me visually, as when I saw a lighting or visual set-up I could already see what the final product was going to look like. It's something different, but because I'm used to being on set it was a nice change. I am concentrating on acting, but that doesn't mean to say I'm not working as a visual effects director. I am working on other films, but for now I love acting.
Ali Rahman Khan
1. Tell us about your role in the film?
I play the character Danyaal, who is a city boy. He is related to Bilal in the film, but is the complete opposite to his cousin. He is fun loving, sarcastic and wears his heart on his sleeve. He is a very intricate character and I really enjoyed playing him, which is why I took the role on.
2. Do you see any resemblance to your character?
I think humour is my strong point, and we are both very sarcastic. But it was still a very different role for me to play.
3. You also have a background in dramas. Did you find any competition to be noticed?
The directors from the film, I have known since my career in television as well as my career in theatre. I played all kinds of roles throughout my career, so I've been lucky to be able to get this opportunity. Their belief in me was quite strong. There was of course a lot of competition from bigger actors, but it was an amazing opportunity.
4. Your previous film, Slackistan received controversy over its content. Do you think Pakistani cinema accurately reflects the state of the country?
I think we've come a long way since Slakistan. The country was politically going through a transition from the military state, which included the transition in film and television. Even though the topics discussed in that film were unacceptable I think, if those same topics were covered today, they would be more accepted. There was a need at that time, because there wasn't a lot of films being made. At that time, film was a lost art, but Slackistan has given rise to more independent film makers to pick up the camera. It played a very crucial role.