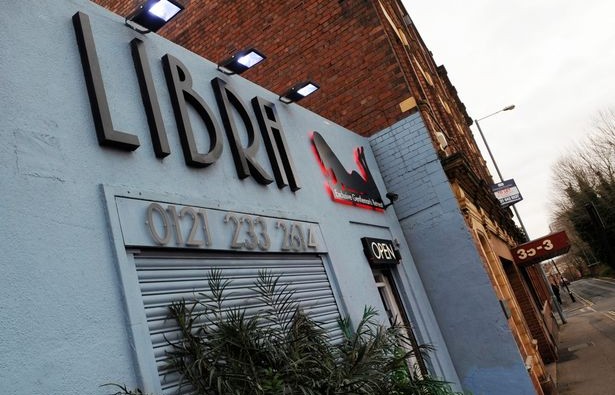 By Aneesa Malik
Police footage has been released of a brothel run by a father and son which earned them profits of £7.5 million in five years.
The Libra Club based in Hockley saw up to 200 customers per day, where there were 'price lists' depending on the needs of the customer.
The brothel was raided by police after an undercover operation. Customers were greeted by a 'traditional' red lit reception room. This contained a cash machine which charged £5 for each withdrawal.
The rooms contained red leather beds, and in 'VIP' rooms, hot tubs. Behind the scenes there were rooms packed with towels, and rails of high heels for girls to wear.
When police carried out their raid they found a man having sex with a woman.
At Birmingham Crown Court Prosecutor James Curtis revealed: "What they saw was a number of cell rooms off a corridor.
"There were a number of girls in underwear, in fishnet stockings and high heels.
"Some approached the officers and they were offered full services."
Mr Curtis said that the officers had made their excuses and left.
Six people have been sentenced for running the brothel which the court was told made £7.5 million in five years.
Achilleos Neophytou, aged 66, and his son Stefanos Neophytou, 25, were at the forefront of the illegal business and were both jailed for 27 months.
Marilyn Egan, 65, of Pershore Road, Edgbaston, and Anita O'Donnell, 55, of Slade Lane, Hall Green, were both given 12 month community orders and electronically tagged for three months.
Ogun Olufunlola, 30, of Roseby Street, Springhill received a 12 month community order and is expected to perform 120 hours of unpaid work, while Martin Tierney, 60, of Sheffield Road, Sutton Coldfield was given a 10 month prison sentence suspended for two years. He will also perform 120 hours of unpaid work.
Raids were carried out at the club and addresses linked to its management as part of an operation involving the Serious and Organised Crime Unit Regional Asset Recovery Team and local officers.
They found more than a dozen women inside the Libra along with private rooms containing beds as well as evidence of sexual activity.
Officers also seized tens of thousands of pounds in cash which they suspected of being profits from the club after searching some of the associated addresses.
Chief Inspector Chris Mallett, from Birmingham Police, said: "This was an illegal venue which made millions of pounds – but also put lives at risk with the disorder it attracted.
"Fortunately no-one was injured during the firearms or arson offences but brothels often attract wider criminality and organised crime.
"It prompted a lot of concern from within the community and its closure has given them some piece of mind and shows we take such illegal operations seriously.
"Following these court proceedings we will now seek to claw back the ill-gotten gains through the Proceeds of Crime Act. Those who do not pay can expect to see their sentences increased."