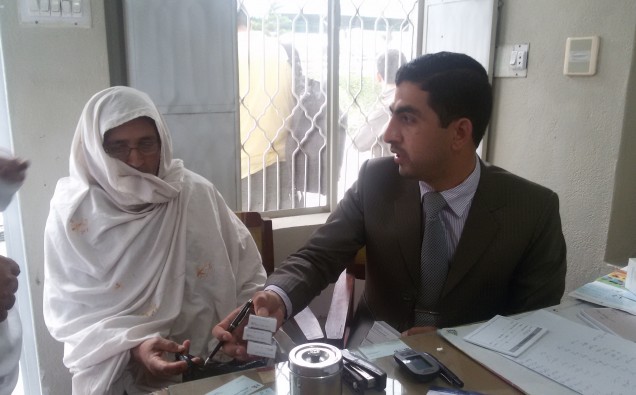 By Syed Tauqeer Zaidi
The Chief Minister of Khyber Pakhtunkhwa Pervez Khattak has pledged support to ensure that all relevant sectors in KPK will jointly work to develop and implement Pakistan's first ever provincial diabetes action plan.
He stated this during his meeting with a delegation consisting of Ms. Helle Nielsen, Chargé d' Affaires of Embassy of Denmark, Mr. Rana Azfar Zafar, GM Novo Nor disk Pakistan, Prof A H Aamir, head of department of diabetes, endocrinology and metabolic diseases at the Hayatabad Medical Complex and Advisory Committee members of the Khyber Pakhtunkhwa Diabetes Forum (KPDF).
Provincial Minister for Health, Mr. Shahram Khan Tarakai and Secretary Health, Dr Jamal Yousaf also attended the meeting. The delegation members had called on the CM to present the recommendations for Khyber Pakhtunkhawa provincial diabetes plan. The recommendations were presented by Prof A H Aamir and focused on a broad range of mechanisms and initiatives at the primary, secondary and tertiary levels, which would collectively work on the prevention, control and management of diabetes care in KPK.
The recommendations are the outcome of the Khyber Pakhtunkhwa Diabetes Forum (KPDF), which was hosted by Ministry of Health, KPK in collaboration with Hayatabad Medical Complex (HMC) and Danish pharma company Novo Nordisk Pakistan in November last year. The key recommendations included establishing a focal Institute of Community Dialectology (KPICD) to mitigate the threats caused by diabetes to the people. It also focused on increasing operational research, revising the curriculum of medical and nursing schools impart trainings for health care staff as well as having specialized diabetes doctors at the district hospitals. Allocating sufficient budget was also one of the key recommendations.
In addition to this, it was also recommended that an efficient and effective Diabetes Health Information System (DHIS) was established which would provide the data to monitor diabetes mortality and morbidity.
Discussing preventive measures on how to curb the risk factors for diabetes, KPDF Advisory Committee members recommended that a healthier lifestyle was promoted through taxation laws on unhealthy food, provision of parks and walking tracks, including media awareness campaigns and school outreach programs to instil healthy lifestyle values among the youth.
Chief Minister Parvaz Khattak appreciated the delegation's work and efforts to identify the way forward and affirmed his support for taking this forward with his relevant ministries; as he underlined the importance of inter sectoral collaboration between the health, education, planning and development, finance, law, media and sport sector.
Ms. Helle Nielsen shared that Denmark was one of the leading countries in the world within diabetes care and research and was very proud that a globally renowned Danish healthcare company such as Novo Nordisk was playing an important role in supporting Pakistan in the fight against diabetes. The collaboration between Novo Nor disk and the Government of KPK is an excellent example of a public-private partnership with a common goal.
The common goal today is to strengthen the diabetes health care system in Pakistan through awareness and quality care. This is one area, where Denmark can share its experiences, as we launched our national diabetes action plan in 2003 and have seen both the social and economic benefits for the people in Denmark over the past decade. We want the people of Pakistan to enjoy the same benefits", said Ms. Nielsen.